For Boston Bruins 5v5 entry and exit data, you can access my workbook here
A frozen black disk comes to rest along the blade of Hampus Lindholm's CCM stick. The Arizona Coyotes have been glued to controversy; from being late paying $1.4 million in taxes owed to the City of Glendale to moving to a 5,000-seat college arena in Tempe, Arizona. However, tonight, they are in Boston looking to take two points from the Bruins. Disorganized after a turnover, the Coyotes' forwards are gravitating towards the Swedish defenseman like a child to Christmas lights. Meanwhile, fresh off the bench, AJ Greer slips behind the tide of the forecheckers. Seconds later, Greer's skates open up to receive a pass at the offensive blue line.
Analytics nerds know who AJ is as he shows up at the top of every table that is sorted alphabetically. To New Englanders like me, we remember him as a member of a brilliant Boston University team in 2014-15 which featured Jack Eichel. As the youngest forward in the NCAA at that time, Greer clawed his way up a deep lineup. The Colorado Avalanche took notice and drafted him early in the second round in June of 2015. But it didn't work out at BU, and he would end up leaving part way through his sophomore year to play in the Quebec Major Junior Hockey League. Greer returned to Boston at the age of twenty-five with just 47 NHL games under his belt since making his debut with the Colorado Avalanche in the 2016-17 season. The goal: to solidify his role in a deep Bruins lineup.
1…2…3…4…5…shoot…score. Five strides were all it took for Greer to score off of a wrist shot from the top of the left circle and put the Bruins ahead 5-3. As he skated to the far corner, the Quebec-native held up the B on the front of his jersey and kissed it. A sign of loyalty and appreciation, just two games into the season.
A month later and Greer has seemingly achieved his goal of solidifying his spot in the Bruins lineup. The reason for his success, he says, is inclusion. "I think everyone's been so positive with me and just valuing me," Greer told me, "I've always felt like a replacement part everywhere else." After Saturday night's game against the Chicago Blackhawks, Greer has now logged the most minutes in a season in his NHL career. His seven points in his first 13 games as a Bruin are not only a career-high but come close to matching his career total heading into this season.
On April 2, the Columbus Blue Jackets were visiting TD Garden. It was a beautiful spring day in New England; the perfect setting for Nick Foligno's 1,000th game celebration. Between the playoff hockey weather and the recent games against the Lightning and the Maple Leafs, a game against a weak Blue Jackets team would surely be a snooze fest. Anticipating a boring game, I grab my notebook, draw a grid, and track the Bruins entries and exits by hand. Instead of falling asleep, I was engaged.
Eric Tulsky, now Assistant General Manager with the Carolina Hurricanes, pioneered much of the early research surrounding zone entries. The findings were perhaps obvious, that controlled zone entries led to more shots and goals per entry than uncontrolled zone entries, however, the vast difference between the two was eye-opening. Controlled entries on average produce shot attempts at over twice the rate of uncontrolled entries (i.e., dump-ins). But as Corey Sznajder seemed to warn in his 2018 presentation at the RIT Sports Analytics Conference, the league was becoming much more efficient at entering the zone since Tulsky and company first presented their findings at the Sloan Sports Analytics Conference in 2013.
With all of that in mind, I wanted to track the Bruins 5-on-5 entries and exits for the entire 2022-23 season. Not just because entries and exits are considered an important part of the game, but to stay engaged with the game and digest valuable context that helps paint a deeper picture of what is happening on the ice.
On Sunday, November 13, the Vancouver Canucks were having their annual visit to TD Garden – a place where they lost three games in the 2011 Stanley Cup Finals. Now, a much weaker team and coming off of a loss to the Toronto Maple Leafs the night before, the Canucks were hoping for a miracle to upset the Bruins who were undefeated at home. With just over 14 minutes gone in the first period, looking to bring energy to his team, Greer took on Vasily Podkolzin in a fight. It would end the young Russian forward's night while Greer would have to wrap his hand for the second and third periods. Patrice Bergeron scored minutes later, and the Bruins never looked back winning 5-2. In the celebration line after the game, it was Greer who got extra hugs and signs of appreciation from his teammates.
You likely don't need a metric to tell you that David Pastrnak is the best forward on the Bruins when it comes to zone entries – he controls entries at the highest rate (controlled entries per 60) and is the third-most efficient (controlled entry percentage). On the other hand, understanding how a player like AJ Greer is having or is not having success is a much deeper exercise.
There are many different variables that affect whether or not a player will choose to attempt to carry the puck across the blue line or dump the puck into the offensive zone. That can range from confidence to score state. But for Greer we are going to focus on: shift starts, strength of teammates, personal strengths, and role.
Shift starts
In hockey, there are four ways you can start a shift: offensive zone faceoff, neutral zone faceoff, defensive zone faceoff, and on-the-fly – or coming off the bench while play is happening. Coaches have some power to optimize their personnel by their allocation of shift starts. As an example, Patrice Bergeron currently has the highest percentage of his shifts start in the offensive zone (24.4%) in the NHL. Furthermore, Bergeron also has one of the lowest percentages of his shifts start on-the-fly (47.2%). Bruins coach Jim Montgomery clearly wants to use Bergeron's rare faceoff abilities combined with his offensive gifts as well.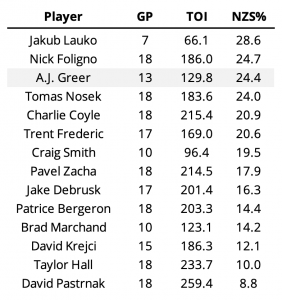 For AJ Greer, 24.4% of his shifts start with neutral zone faceoffs – an event that breeds boring play. When play resumes at one of the five faceoff dots in the neutral zone, all 10 players are crammed into a tight space. This generally leads to a dump-in for the faceoff winners, and a relatively uneventful shift. While not all of Greer's 44 uncontrolled entries followed one of his 47 neutral zone starts or the 61 neutral zone faceoffs he's been on the ice for, if he were to attempt to enter the offensive zone following one of these events, he'd be significantly more likely to send the puck in deep.
Strength of Teammates
Greer has spent his entire season in the Bruins bottom-six, splitting time rather evenly with either Charlie Coyle and Trent Frederic or Nick Foligno and Tomas Nosek. With Coyle (7.6) being an exception, Frederic (-1.2), Foligno (-4.6), and Nosek (0.3) were all at or below replacement level at even strength offense over the previous three seasons. Charlie Coyle's speed, comfort in tight spaces, and ability to make space for himself has led to him owning the neutral zone for the Bruins this season. However, the others prefer a chip-and-chase game. They contribute to their team the best when there is nothing going on, leading to each of them had positive even strength defense GAR over the previous three seasons.

For Greer, if his teammates aren't going to be able to create offense off the rush and contribute to their team best in low-event environments, the value of controlling the entry diminishes. This would likely lead to Greer being more likely to dump the puck in when attempting entries.
Personal Strengths
"I see myself as a natural power forward," Greer says, "I can bring energy, hit, and fight. I can also score." He admits, somewhat reluctantly, that his play down low is his strength at the moment. At 6-foot-3, 208 pounds, his size, strength, and relentless effort have helped him find success, particularly in Montgomery's formidable forechecking system that he brings from St. Louis. While it may be harder to create a high frequency of shot attempts when relying on forechecking, the quality of those shot attempts can often be high. At the moment, Greer leads all Bruins forwards in expected shooting percentage of unblocked shots when he is on the ice at 5-on-5. And while his actual on-ice shooting percentage is unsustainably high through the first 18 games of the season, the underlying shot quality will hopefully brace the fall back to earth.
Role
The Bruins have had a completely healthy forward group since the return of David Krejci. This has "demoted" Greer to the fourth line alongside Nick Foligno and Tomas Nosek. While we just covered the strengths and weaknesses of the two, a spot on the fourth line of a Bruins lineup means that the next line on will likely feature Brad Marchand and Patrice Bergeron or Taylor Hall and David Pastrnak. If nothing happens in between these shifts, good or bad, then that's a success for the team. This amplifies the negative effects of a failed entry attempt, leading to a low-risk style of play.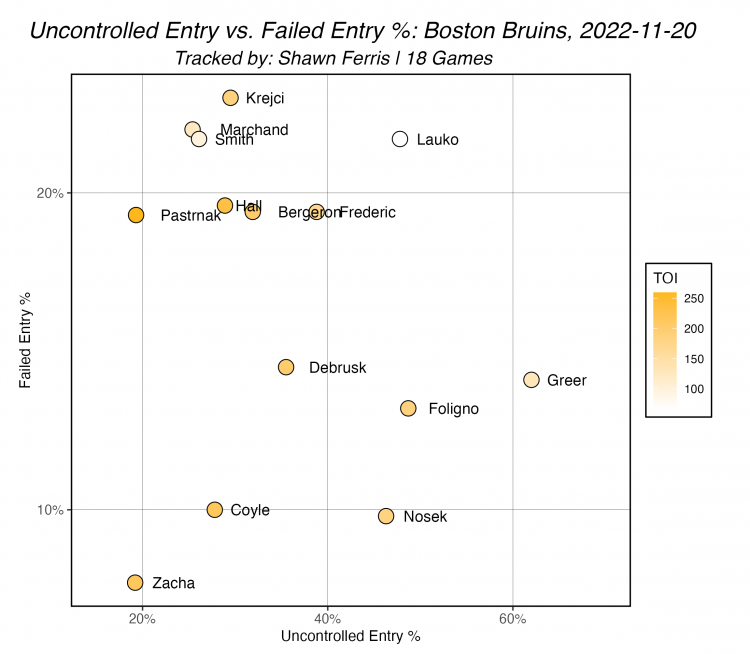 While Greer leads all Bruins forwards in dump-ins, he also fails to enter the zone at a lower rate than some of his peers. This low-risk style of play has led to his on-ice results being rather "boring" as is asked of him. So far this season, there have been 95.3 total shot attempts per 60 minutes while Greer is on the ice at 5-on-5 – lowest of any Bruins forward. A job well done.
Monitoring and Improving
In 2019, Michael Lopez and Asmae Toumi presented at the Ottawa Hockey Analytics Conference. The goal of their project was to estimate the potential benefit that teams can gain by carrying the puck in as opposed to dumping it in. While research surrounding entries had been out in the public eye for years at that point, the two looked to take confounding variables into account. A confounding variable is a variable that affects the relationship between the independent and dependent variable. For example, if a player's team is up 2-1 late in the third period, they will be more likely to dump the puck in as a goal against will hurt their odds of winning more than a goal for will help their odds.
This project has stuck with me, and I asked the Lopez and Toumi for their follow up thoughts. A lingering question that Lopez still had was, "Can you just make a player go from 'prone to dump-ins' to a 'carry-in' player?" He goes on to say, "Player skillsets are so distinct – identifying where and what to improve, and where and what to target, is something we weren't able to consider."
The slogan around the Bruins locker room seems to be, "Stick to the process." The 16-2-0 Bruins know that they've been getting breaks and that they will have to face adversity shortly. They are off to play Tampa tonight before heading across the state to take on Florida Wednesday night. They'll then come home to face Carolina on Friday before taking on Tampa again at TD Garden next Tuesday night. What their record looks like following their toughest stretch of the season thus far is a mystery.
Sticking to a process creates a stoic atmosphere for the team. One that doesn't allow its environment to affect it, leading to consistent growth. "Rush play – I want to get better at," Greer says. "The opportunities will come. It's a long season. Once I get those opportunities, I want to be ready. I've been working really hard, before and after practice, just being keen on the details." From the pressure of trying to stay in the NHL for the first time, to the way he's been deployed on the ice, Greer has been forced to play a low-risk style of play. However, as the season goes on and he gets more comfortable, he'll be looking to elevate his game by controlling the puck farther up the ice. Injuries are due to come, and the Bruins are hoping that Greer will be ready if he needs to fill in a bigger role for a stretch of time.
Last season brought us a twenty-six year-old breakout Calder finalist. With the unusual development path of Greer, who will be twenty-six years old next month, it wouldn't be outlandish to believe he too could be a late bloomer. With a supportive set of teammates and coaches, and the absence of fearing that one mistake will send him to the AHL, Greer is now in an environment where he can develop his overall game. Just like me, for AJ Greer, Boston is home.