It has been an exciting first four nights to the Stanley Cup Playoffs. With all of the games on the same network family, we saw perfectly staggered times that allowed serious fans the opportunity to watch continuous hockey for roughly six hours. No matter what happens in the regular season, or what the models that Luke spends so much time building might say, the hockey Gods always find their way to write a story that makes Shakespeare look like an amateur. From electric power kills to (almost) record-breaking goaltending, these first two games have lived up to the expectations. Here is where we are heading into game 3's.
Boston Trails Carolina 2-0
Heading into the playoffs, the Carolina Hurricanes had outscored the Bruins 16-1 on the year. Add 5-1 and 5-2 wins in games 1 and 2 and that margin has increased to 26-4. Both teams will have major injuries as they head north for game 3.
For the Hurricanes, they will be without Antti Raanta. Already without Freddie Andersen, the Canes will be down to Pyotr Kochetkov. He allowed two goals on 2.85 expected goals after coming in partway through the first period on Wednesday night.
For the Bruins, they will be without deadline acquisition, Hampus Lindholm.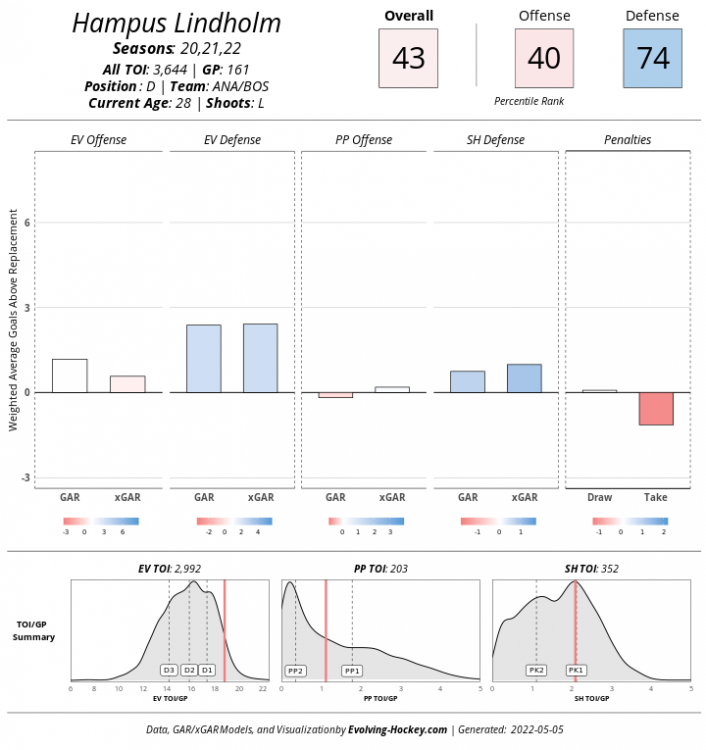 Given some injuries and frequency of flier miles to the penalty box, Lindholm probably doesn't have the player card that matches his reputation and salary. However, the Swede is a member of the Bruins top pair alongside Charlie McAvoy. With his absence in the lineup, Mike Reilly will enter in his place. The 2021 trade deadline acquisition of the Bruins makes some of the most beautiful breakout passes that you'll ever see, but requires a stable defensive partner to get the most out of him.
Tampa Tied with Toronto 1-1
Heading south, the Tampa-Toronto series looks destined for a full seven games. While they've only played 75 of 120 (62.5%) of the game at 5-on-5 so far, expected goals are 3.61-3.53 in favor of Toronto while adjusting for score state and venue. After a masterclass by the Maple Leafs to start the series, the Lightning rebounded to score 5 goals themselves in the second game of the series.
The Leafs have spent just a tad over 22 minutes at 4-on-5, but have managed to score a pair of goals while giving up 3. The Toronto power kill has been a storyline so far in the series, especially after they killed off the Kyle Clifford major in game 1 in fashion. During the regular season, the Leafs led the NHL in 4-on-5 expected goals per 60 (1.63) and were second in expected goal differential per 60 (-4.15). With a bit more intensity in game 2, the Lightning were able to take back a bit of control, scoring 3 goals. With so many penalties being called, the special teams battle will be interesting.
Auston Matthews and Mitchell Marner have also shaken off some of last year's failures with each of them having 2 goals and 3 assists. Their depth, which performed last postseason, looks poised to breakout. Specifically, the Engvall, Kampf, Nylander line, which has taken about 3 of every 5 shot attempts while on the ice at 5-on-5. For the Lightning, Corey Perry and Patrick Maroon are causing havoc (and scoring goals too). The Leafs will probably need to figure out how to deal with them.
St. Louis Tied with Minnesota 1-1

Speaking of tight series, we have one in the Midwest. Despite St. Louis dominating shutting out the Wild 4-0 in the first game, and the Wild winning 6-2 in the second game, the games were much closer from a shot attempt and expected goals standpoint. Interestingly, in both games, the team with more expected goals had fewer shot attempts after taking score state and venue into account.
Joel Eriksson Ek is having a tremendous series. Not only does he have a pair of goals and an assist, but the Wild have a 1.26-0.44 (74.1%) expected goal advantage with him on the ice at 5v5. This shouldn't surprise anyone as Eriksson Ek has been one of the best two-way forwards in the league for some time now. Minnesota will hope that line stays rolling in St. Louis.
Los Angeles Tied with Edmonton 1-1

Sorry to Kevin Hart, but Los Angeles will get to see quite the show tonight as one of the best players in the NHL faces off against Connor McDavid and the Oilers. While McDavid was largely able to avoid Danault at home, the Kings will be able to match up their big free agent acquisition against McDavid for games 3 and 4.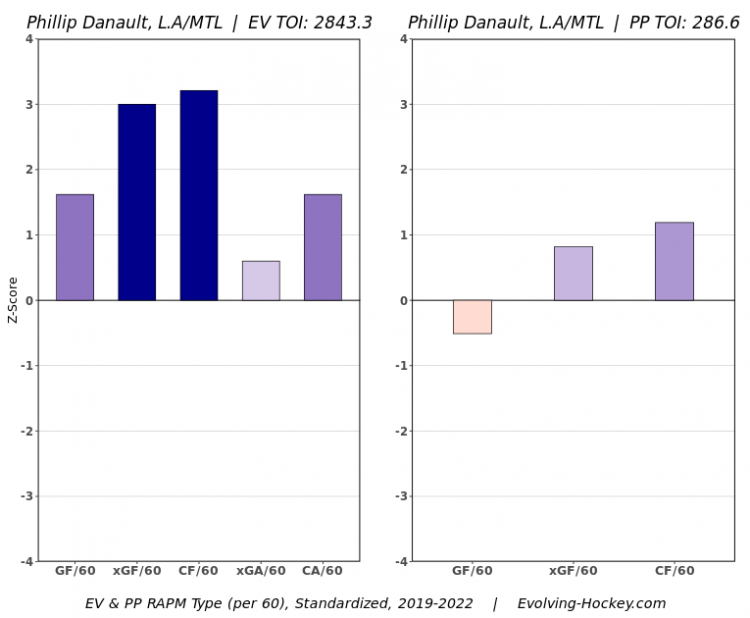 Phillip Danault's ability to control play is matched by very few forwards around the league. He has been gelling with Alex Iafollo and Trevor Moore, and the trio has outscored the Oilers 3-0 when on the ice together at 5-on-5 this series. If the Kings are going to pull off the upset, they will need that line to continue to be great, preferably neutralizing Connor McDavid while they're at it.
Pittsburgh Tied with New York 1-1
To some extent, it feels like it doesn't matter what happens in the rest of the series because it will never live up to game 1. The game became stereotypical Rangers hockey with New York getting heavily outshot, but keeping the game close with great goaltending and finishing. After a late go-ahead goal was called back for goaltender interference, that margin would continue to grow until the Penguins ended the game in triple overtime.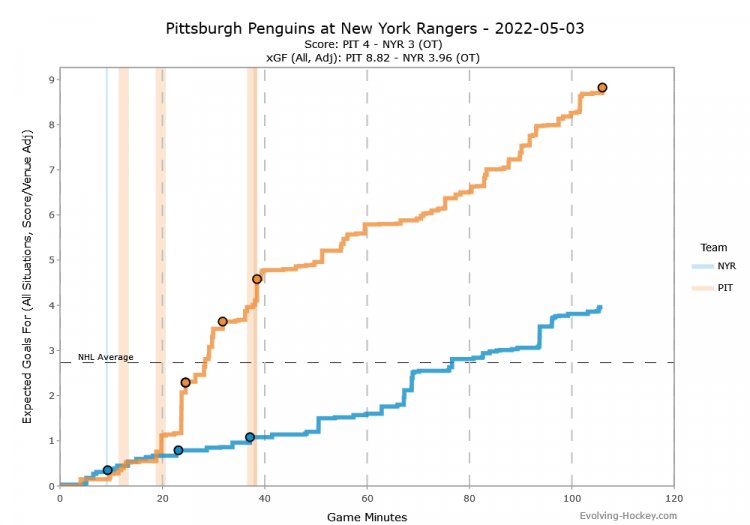 While Igor Shesterkin's goaltending was keeping the Rangers alive, Casey DeSmith would leave the game suddenly in the second overtime period. Louis Domingue, fresh off a nice pork and broccoli dinner, finished off the game and started in game 2. Domingue has not played regularly in the NHL since the 2019-20 season when he allowed 12.6 goals above expected in 17 games for the Devils and Canucks. While the storyline is good, goaltending may be a concern after the Penguins dropped game 2 and head back home Saturday.
Washington Tied with Florida 1-1

Credit where credit is due, the Washington Capitals are not going down easy. They managed to take game 1 against the President's Trophy winners in Sunrise, Florida. They were able to neutralize a very dangerous Panther offense by keeping them out of the center of the ice. The potential upset looked to be on – until game 2.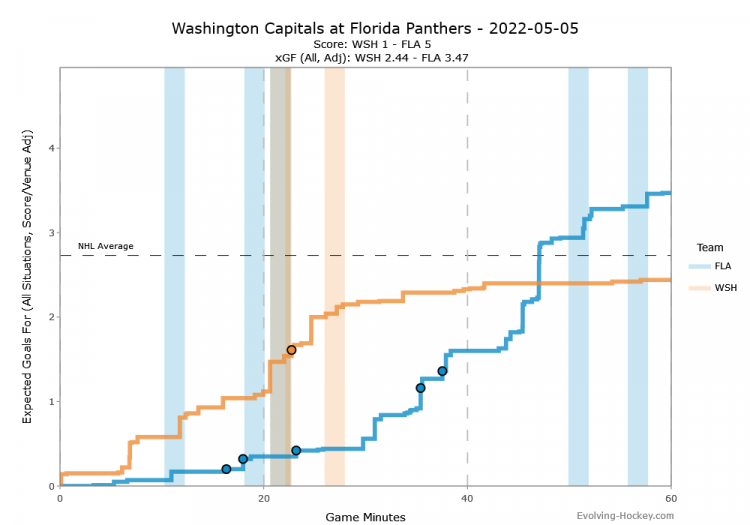 The Capitals came out and played an impressive first 15 minutes or so, but the Panthers came out and dominated from there. Perhaps most impressive was the third period where they kept the Capitals on their heels the entire time despite already being up 5-1. I think that's what the youngsters call "Sicko Mode". The Panthers will be heading to Washington with two wins in mind. We'll see if the Caps can enter back into the series or if they will roll over.
Dallas Tied with Calgary 1-1

This is the series everyone wants to watch. With 2 non-empty net goals through 2 games, this series is going to be epic. Okay, maybe not everyone likes a good defensive series. All situations expected goals are 4.15-3.98 in slight favor of the Stars. Their expected goal total combined is only slightly greater than Carolina (7.6) or Colorado (7.5).
While all situations expected goals are close, the Flames do have a considerable advantage in 5-on-5 shot attempts where they have a 60% share. And despite a goal last night, the Stars first line has largely been neutralized. If the Flames can manage to stop the Stars only good line, they can win three straight with their depth. However, they will need to start finishing first.
Nashville Trails Colorado 2-0

We are not winning, Taylor. The Colorado-Nashville series has lived up to the meme it was meant to be. Big Save Dave and the Predators had a rough first game in the Mile High City, but they did come back and force an overtime game in game 2.
As one would expect, Colorado has quite the advantage in shot metrics. They have a 69% share of 5-on-5 shot attempts and a 60% share of expected goals when adjusting for score state and venue. All signs point to this series ending in Nashville, something that had roughly a 1-in-4 chance of happening based on our first round projections, but crazier things have happened before I suppose.