Troy Terry's Breakout
You might know Troy Terry for his amazing shootout performance in the 2017 World Junior Championships where he scored in the fourth, sixth, and seventh rounds against Ilya Samsonov in order to send the United States to the gold medal game. Heading into that shootout, not many knew who Troy Terry was. Despite being a point-per-game player at the University of Denver heading into the tournament, he was given more of a "grinder" role on a pretty stacked US team. Terry would go on to sign with the Ducks, who picked him in the 5th round of the 2015 NHL Draft, not long after that tournament. And over the last three seasons, despite some decent numbers, Terry seemed to go under-the-radar once again.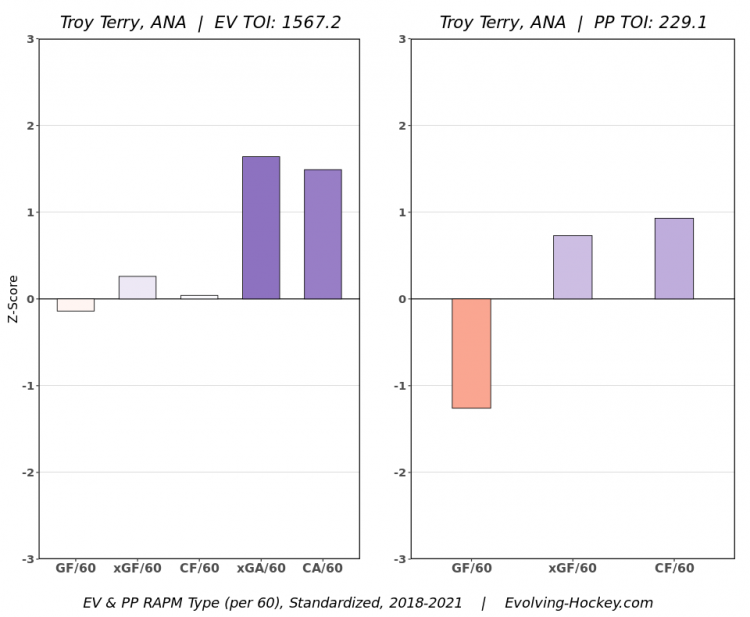 Perhaps the Ducks developed him well – having him split time between the AHL and NHL over his first two seasons before bringing him up full-time last season. Now, with quite a bit of shooting luck helping him, Terry sits top-10 in points and looks like he will have his very first 30-goal season. However, even though his scoring is what is bringing him a tad bit of attention right now, the twenty-four-year-old still has his defensive responsibilities. He starts roughly one-in-five shifts in the defensive zone at 5v5. At the time this is being written, only 12 other forwards start their shifts in the defensive zone more frequently. Hopefully, Troy Terry can be a defensive forward we all like.
A Rangers Team On the Edge
Last week, we briefly talked about the luck of the Columbus Blue Jackets – a team that is being blessed with incredible shooting and goaltending at the moment. The New York Rangers are another team that seems to be holding onto their record by a string of luck.
On Monday, the Rangers beat the Florida Panthers 4-3 at Madison Square Garden. However, the shots and expected goals were heavily in the Panthers' favor, perhaps leading to the almost comeback by the Cats.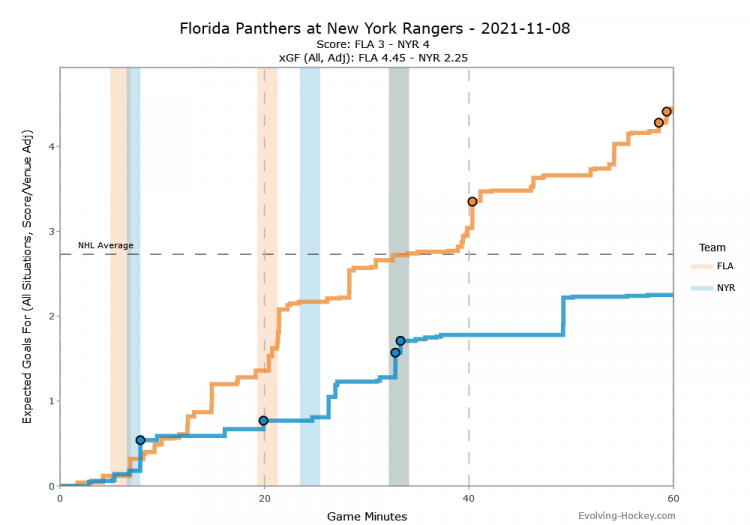 This has been the story of the season for the Rangers. At the time I'm writing this, Igor Shesterkin has saved 7.21 goals above expected and has stolen some games for the Rangers. When Gerard Gallant was asked about this one Wednesday, he acknowledged this deficiency in a pretty blunt fashion.
I also asked about what Gallant wants #NYR to do to generate more offense at 5v5.

His ask is pretty simple: "I wish we put more pucks to the net."

Fair enough. They're averaging 22.83 shots on goal per 60 at 5v5, which ranks dead last in the #NHL (per @EvolvingHockey).

— Vince Z. Mercogliano (@vzmercogliano) November 10, 2021
And when it came to our weekend update on team-level expected goals, who was down towards the bottom? The New York Rangers of course!
As is a weekend tradition, team-level 5v5 expected goals

BOS, MIN, and FLA lead with varying levels of pace

CHI, VAN, and NYR are at the bottom and aren't creating chances right now pic.twitter.com/bhLoQa2bws

— Evolving-Hockey (@EvolvingHockey) November 13, 2021
As we will continue to point out, regression to the mean doesn't necessarily mean that the Rangers will begin having poor goaltending and shooting. The Rangers have cashed in on some points they probably didn't deserve, but if their underlying numbers begin to also regress closer to where we expected them before the season started, the Rangers should find themselves in the playoffs with a goaltender that can take them far. There is a long season ahead of us.
How Dreadful is the Penguins Powerplay
At the time I am writing this on Sunday evening, the Pittsburgh Penguins sit dead last in the league in PP% at 9.1%. This is roughly the time of year where I begin to take a glance at these stats, and I was caught a bit off guard here. However, when I bothered to look a bit deeper, it made a bit more sense to me.
Jake Guentzel leads the Penguins in powerplay time on ice, but the talent falls off steeply from there. Kapanen, Carter, Rodrigues, and Letang round out the top five, without Sidney Crosby in sight. This seems to expose a bit of what we already knew – that without Crosby and Malkin, the Penguins do not have the offensive depth to deploy a very dangerous powerplay. Still, I would expect to see this to regress a bit. In my opinion, the process is still there. They sit 13th in 5v4 xGF60 and CF60. They are able to get pucks on net at fair rates but aren't finishing. Over the course of an 82 game season, the lowest 5v4 shooting percentage was 7.1% by the 2013-14 Florida Panthers. That's well above their current efficiency of 4.9%. I would expect to see some of their chances to go in, especially as they get healthier, and to see the Coyotes at the bottom of the league come April.
An Update on the $6.1 Million Investment
One of the strangest rivalries in the National Hockey League is that of the Montreal Canadiens and the Carolina Hurricanes. Created due to Sebastian Aho's failed offer sheet, and continued with Jesperi Kotkaniemi's successful offer sheet over the summer, the two organizations have created the most cringe-worthy back-and-forth that Twitter has to offer. Of course, we have covered Kotkaniemi and the merit of his one-year, $6.1 million deal, but it's always good to keep tabs on everything.
Jesperi Kotkaniemi currently has 3 points in 13 games. Ironically, his first point as a Carolina Hurricane was against his former team. Beyond points, the Carolina Hurricanes have been suspect with him on the ice this season. At 5v5, the Hurricanes have a 41.2% share of expected goals after adjusting for score state and venue with Kotkaniemi on the ice. That is the worst of any Hurricane who's seen the ice for more than 50 minutes this season. And that leads to a pretty poor way-too-early RAPM chart.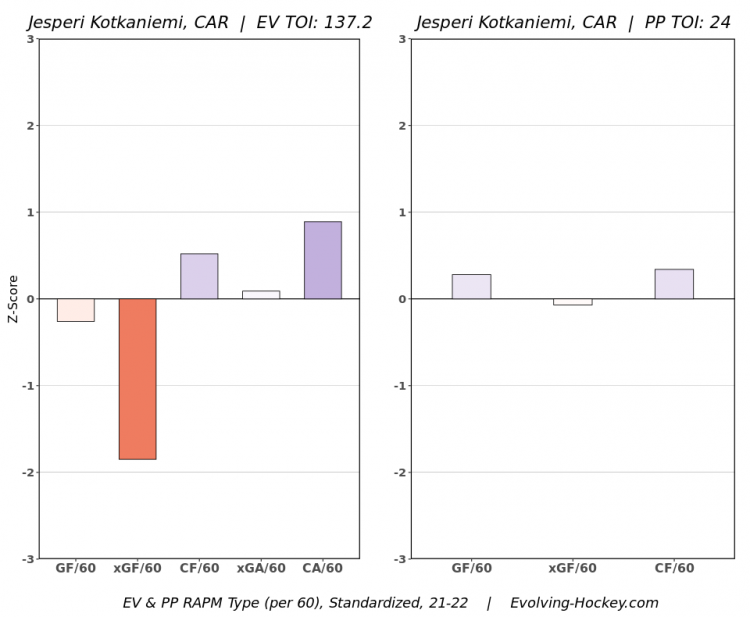 We'll have to keep tabs on this story as we get closer to Kotkaniemi's contract extension with the team that finally loves him back.