A Ride Up A15
On Monday, November 1, the Montreal Canadiens announced that they were sending Cole Caufield 20 minutes north to the Laval Rocket. When the season began, Caufield was the favorite to win the Calder Trophy at +300. Of course, that had merit. His 12 points in 20 playoff games this past spring left many Canadiens fans excited for the bright future of the young American. However, with a bit of deja vu (Josh how do I add accents) from Jesperi Kotkaniemi's tenure, there has been a bit of a setback. He only recorded a secondary assist in his 10 games with the Canadiens this season, failing to convert on a single one of his 42 shot attempts at all situations. However, it has been a poor start for the Canadiens as a whole, and Caufield's lackluster performance has been amplified by poor shooting luck. It will be interesting to see when Caufield returns and how well he plays in that return.
The Eichel Saga is Over
For the last few months, the Eichel trade talks have been a daily feature of every hockey fan's life. While it has been revealed that Eichel asked for a trade following the 2019-20 season, his neck injury and surgery selection were the catalysts for the move. On Thursday, Eichel was sent to Vegas, just before his interview with Elliotte Friedman, in exchange for Alex Tuch, Payton Krebs, a first-round pick in 2022, and a second-round pick in 2023.
How this trade will play out with the majority of Buffalo's stake depending on future developments will be seen years from now. However, it's worth pointing out Eichel is quite the strange player on Evolving-Hockey.com. One of the more popular features on the site is the player cards. Based on his most recent player card, you'd wonder how Eichel pulled such a return.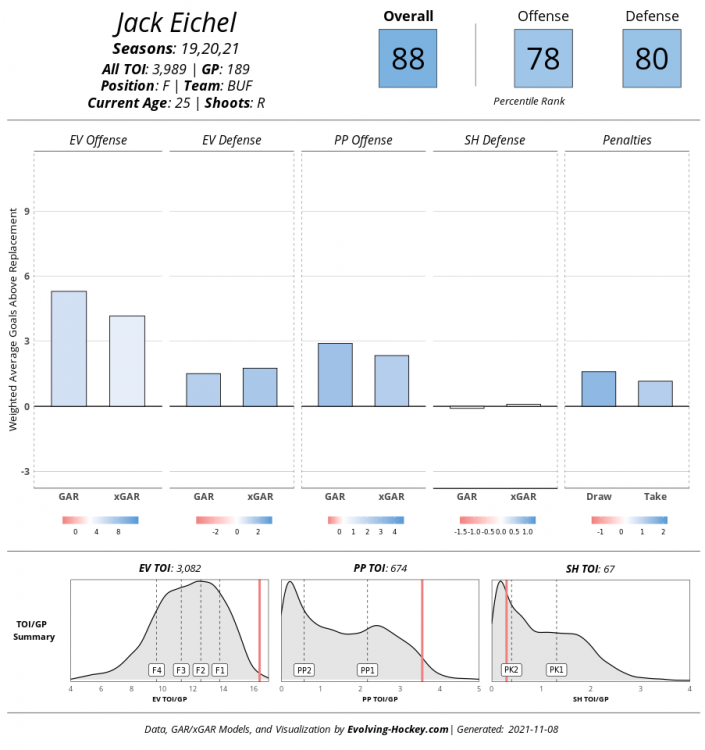 If you zoom out and view his whole career, you find a top young player who was improving on an annual basis.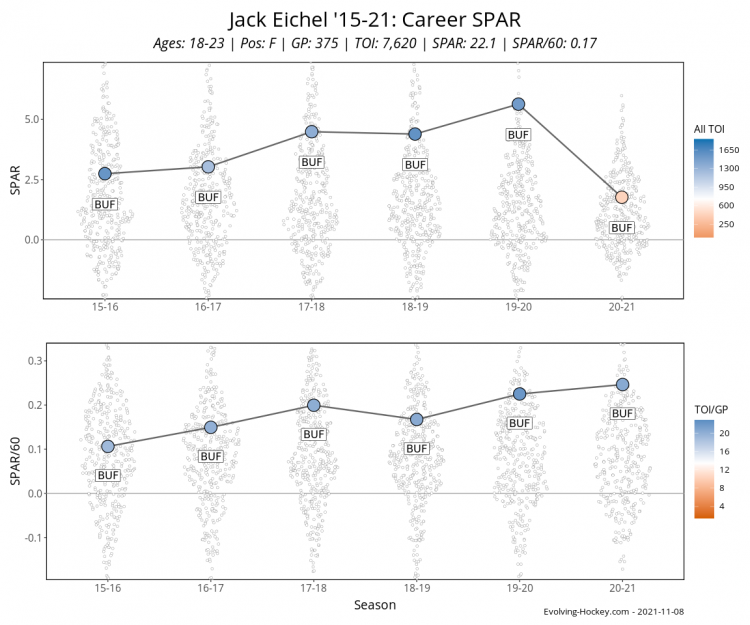 Between the 17-18 and 19-20 seasons, Eichel ranked 20th in the NHL in GAR. While he was a fairly significant step off of Connor McDavid, Brayden Point, Sean Couturier, and Nathan MacKinnon, he offered a consistently great on-ice product with some flashes of pure brilliance that brought joy to Sabres fans who endured a lot of pain before, during, and will continue to after his tenure. And while Krebs and the first-round pick will be the key pieces for Buffalo, Vegas is relying on a healthy Eichel to return towards the top of the NHL. I sure hope we can see a McDavid v. Eichel Western Conference Final soon.
Lucas Raymond Rules the World
I am writing this on Sunday night after Lucas Raymond has scored another goal, therefore, his numbers will probably be better when this gets published. The Red Wings are 6-5-2 after defeating the Golden Knights at home on Sunday evening. It seems as though Steve Yzerman's rebuild may be on the up-and-up early on this season with his young players performing quite well. Lucas Raymond leads the way-too-early GAR leaderboard for rookies at 4.0 with his teammate Moritz Seider close behind at 2.6. Of course, these were the Red Wings first picks in the 2020 and 2019 drafts respectfully. What is perhaps most impressive with Lucas Raymond is that he does not have a single negative component to his GAR. His offense at both even strength and on the powerplay has driven most of his value, but he's held his own defensively and has been positive in helping his team create a powerplay advantage. While it is still way too early, Raymond seems to be popping off as the early favorite for Calder, from an analytics perspective I guess.
The Luck of the Blue Jackets?
If you head over to the team stats table and sort by all situations expected goal share, you will find the Columbus Blue Jackets waaaaayyy down at the bottom in 31st place – just ahead of the Arizona Coyotes. However, the Blue Jackets are 7-3-0 and have a +4 goal differential. What is happening here? Are the analytics wrong?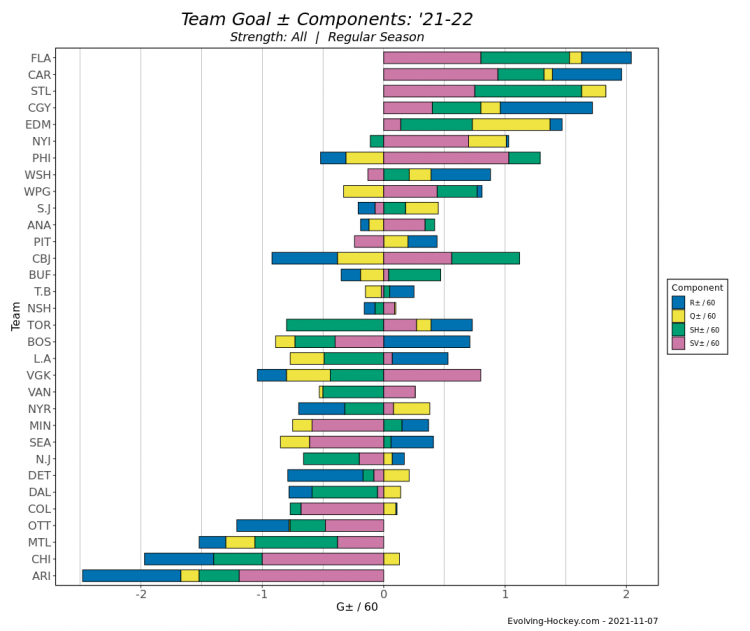 Well, I don't know about that quite yet. The breakdown of their goal differential at a rate of 60 minutes (+0.19) is as follows:
Rates (shot volume): -0.54
Quality: -0.38
Shooting: +0.56
Saving: +0.56
Given that the Blue Jackets don't have a tremendous amount of skill on their team, I don't believe that hot shooting will last for too long. The goaltending duo of Elvis Merzlikins and Joonas Korpisalo, while quite fun, might have trouble sustaining this level of success as well. This will likely result in a pull back to earth for the Jackets, but as we discussed on the podcast, we really don't know when things like this will occur. We are just fairly confident that this will happen as the sample size gets larger, which is why we still project them to finish last in the Metropolitan Division despite their hot start.