With the Boston Bruins in their 100th season, the rivalry between the Bruins and the Montreal Canadiens now spans an entire century. Growing up in Massachusetts, the bitter rival wasn't the Toronto Maple Leafs, New York Rangers, or Philadelphia Flyers. Sure, those were heated rivals too, but the Montreal Canadiens were special. They represented two different brands of hockey. The Montreal Canadiens were the team filled with speed and skill that pushed the game forward, and they won Cups for that. In Boston, the Bruins were the gritty, hard-nosed team that was not to be messed with; the "Big Bad Bruins" as they were so cringingly called. The two teams couldn't have been more different, and the rivalry couldn't have been more intense.
Last Saturday night, the Bruins traveled up to take on the Canadiens for the first time this season. The last time they were in Montreal, they extended their record to 65 wins in the 2022-23 regular season. It also extended the Bruins winning streak in the rivalry to 10 versus the Canadiens. In fact, the Canadiens had not beaten their division rival since November 5, 2019. In that game, the Canadiens second pair of Ben Chiarot and Victor Mete combined for three goals, including the game-winner, to defeat the Bruins 5-4. Covid played its part in elongating the amount of time between wins, but over four years between wins seemed like an eternity.
Fans were treated to a game filled with pace and physicality. The Bruins would score a goal in the first shift of the game, but the two teams would settle into a chess match. While the officials let the game go in the first period, the second and third period were filled with penalties, with a powerplay goal apiece. The Bruins got their chances in overtime, but it was Kaiden Guhle who snapped he streak for the Canadiens in the extra period.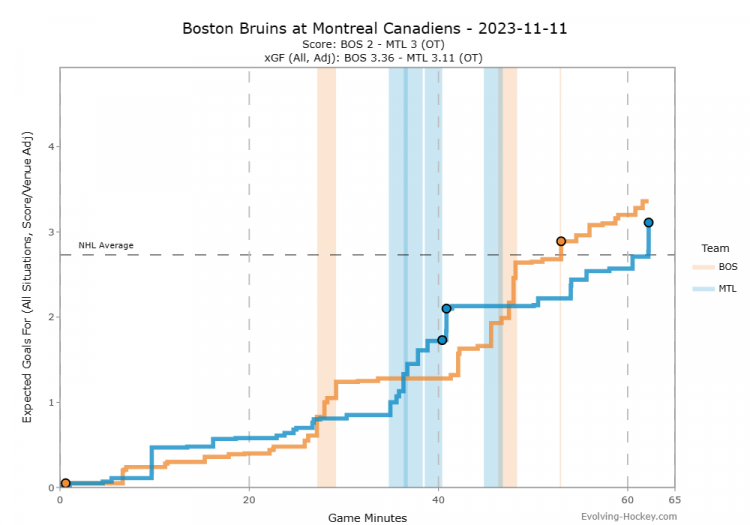 The two teams will meet again this Saturday night in Boston. While these two teams are still far apart in the standings, hockey needs this rivalry renewed. Hopefully the Canadiens win signals good entertainment ahead between the two.
William Nylander's next contract
On August 23, Auston Matthews signed a four-year contract extension with the Maple Leafs worth $13.25 million annually. It was another unorthodox signing by Matthews where he is looking to re-price himself again at 29. That leaves William Nylander as the big UFA to extend for the Maple Leafs. In last season's contract projections, we added extensions into the mix. These are a bit funky as extensions notoriously stray from market for one reason or another.
The model felt strongly that Nylander would sign an eight-year contract, as really good players typically sign for max term if they are still in their twenties. At that term, the model feels Nylander should sign for 11.0% of the cap, which equates to $9.2 million with a cap hit of $83.5 million. Of course, expectations that the salary cap will rise again seem to be high, with the league throwing $87.5 million out for next year's target, which would mean 11.0% of that cap would be $9.64 million.
What a short-term contract like Auston Matthews would look like is tough for the model to pick up on and could potentially be what has held this contract in the negotiation stages until now.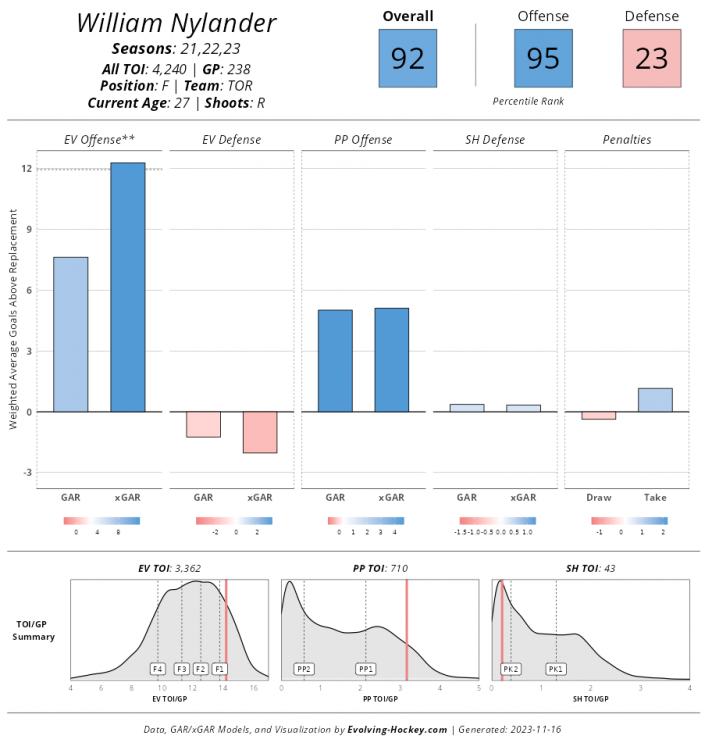 There is a lot of focus on Nylander's historical 15-game point streak to start the season, but he has been consistently one of the best offensive players in the game for some time now. Hopes are elevated for the Leafs fan base that an extension could happen while the team is over in Sweden, but why not let this drag on if you're Nylander?
Shorthanded goals are up (for now)
As of Wednesday, shorthanded goal rates are at their highest point in our database going back to 2007-08. We once saw a clear shift up the ladder in 2017-18 where 4-on-5 unblocked shot attempts per hour rose from 11.1 to 13.5 year-over-year while goals for per hour rose from 0.89 to 0.95. Since then, we've plateaued. A little over a month in, we are seeing a rise in goals again. Last season, teams scored 1.01 goals per hour at 4-on-5 while this season, goals have increase to 1.16 per hour. Unfortunately, that may not last long as shot rates have been stable year-over year and this all appears to be due to a rise in shooting percentage from 8.95% to 10.89%.
Quinton Byfield's breakout season
For a second overall pick, Quinton Byfield didn't have the best start to his career. In his rookie campaign in 2021-22, he only played 40 games, scoring 10 points, while he spent 11 games in the AHL. The Kings had tried him out at center, mostly with Dustin Brown and Gabe Vilardi. Last season was a bit better, but still wasn't up to expectations. He once again split time between the NHL and AHL. However, the Kings pushed the shift to winger for the Newmarket-native. He saw more on-ice success alongside Anze Kopitar who could handle the defensive responsibilities, enabling Byfield to use his gifted size and speed. This season, Byfield has come fully prepared and has began to blossom into the player he could always be. Adrian Kempe, Anze Kopitar, and Quinton Byfield have a 57.1% share of expected goals and 66.1% share of goals when they've been on the ice together at 5-on-5 this season. Plus, Byfield has 13 points in 14 games.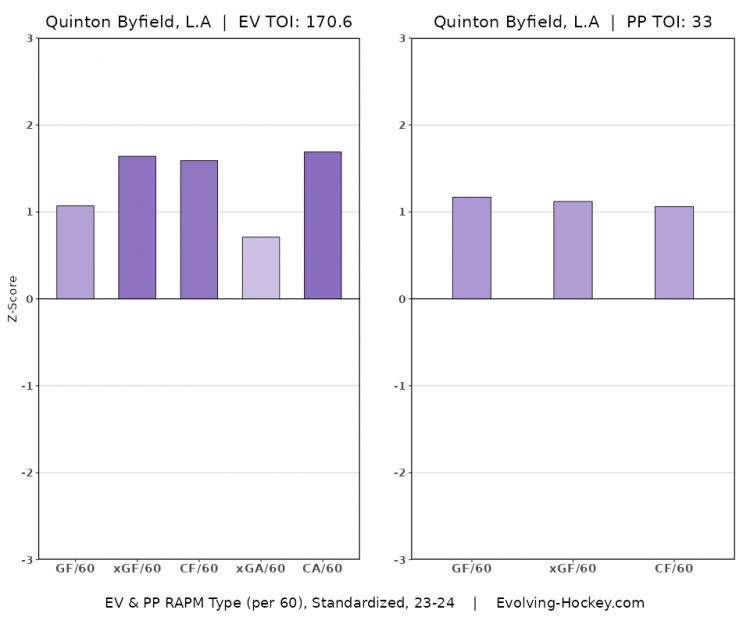 Is it too early for a RAPM chart? Yes. But I think it perfectly encapsulates the season Byfield has been having.
Making sense of the Islanders
After shutting out the Washington Capitals on November 2, the Islanders are 0-4-2. They sit three points out of the last wild card spot in the east with only five wins in 15 games. This seems to be making the fan base a little antsy, illustrated in the "Fire Lambert" chants heard at UBS arena. However, if they had split their four overtime games, they'd only be one spot back. They even have one more regulation win than the Toronto Maple Leafs who sit in the first wild card spot. Hockey has a certain amount of randomness to it that is amplified in small sample sizes and overtime.
This doesn't seem to be a team to worry about. They have a 49.6% share of expected goals and 48.2% share of actual goals at 5-on-5. This has also been one of the poorer stretches of Ilya Sorokin's career in which he has still been quite serviceable with 1.61 goals saved above expected in 10 games. His backup, Semyon Varlamov, has picked up in his absence with 7.61 goals saved above expected in five games.
A weak point for the Islanders has been their penalty kill. At 4-on-5, they have allowed the 7th most expected goals, 9th most unblocked shot attempts, and 5th most goals at a rate. Combined with their -12 penalty differential which ranks 31st, and you're putting yourself at quite the disadvantage for special teams.
Our preseason projection for the Islanders was 11th in the east, which is where they would be had they split their overtime games. The expectations for the Islanders, based on their roster construction, should have been quite low to begin with. Maybe a change of voice could benefit the Islanders locker room, but it doesn't seem like this is on the coach.