Rosters from CapFriendly's Depth Charts. Data from Evolving-Hockey.
And then there were 4. While Round 1 of the 2022 NHL playoffs was one of the most entertaining rounds we've seen in some time, Round 2 was not without its moments. 3 of the underdogs by our model won their series, so suffice to say we may have not been the happiest, but that's the playoffs. A quick recap:
The Battle of Alberta unfortunately ended earlier than everyone other than Oilers fans would have liked, but we saw some insane goal scoring, ridiculous plays, and McDavid.
The Avalanche / Blues series was closer than we projected it would be, but Nazem Kadri and the Avs turned in a great performance to beat the Blues in 6.
The most unlikely of teams (Rangers) beat a true fan favorite (Hurricanes) in 7-games (this is tongue in cheek in case it wasn't obvious). How do the Rangers always have THE goalie that can bail out their poor even-strength skater performances? Sorry this is oversimplifying, but it's annoying.
The Battle of Florida just straight up sucked.
It's Conference Finals time.
| Division | Home | Away | Round 1 % | Outcome |
| --- | --- | --- | --- | --- |
| Atlantic | FLA | T.B | 73.7% – 26.3% | 0-4 |
| Metropolitan | CAR | NYR | 60.6% – 39.4% | 3-4 |
| Central | COL | STL | 85.5% – 14.5% | 4-2 |
| Pacific | CGY | EDM | 63.2% – 36.8% | 1-4 |
Eastern Conference
---
New York Rangers (2)     vs.     Tampa Bay Lightning (3)
46.6%                          53.4%
---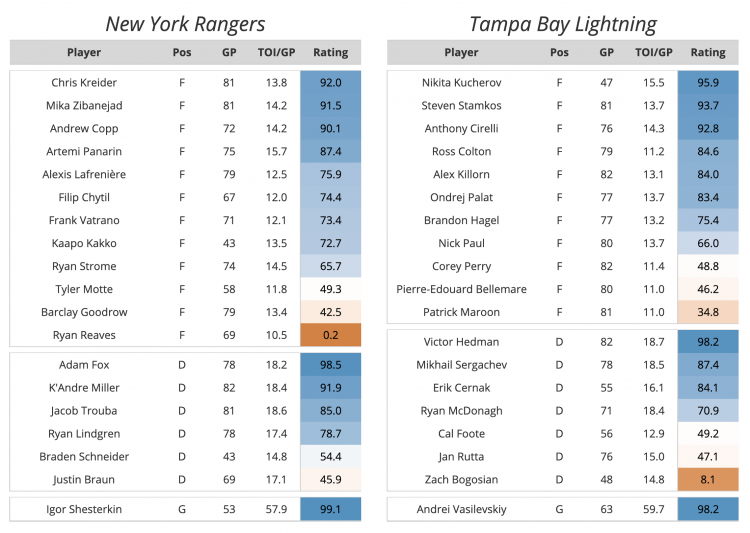 First off, I guess the NHL switched up their tiebreakers at some point and we just missed it? The Rangers are the home team here due to their regulation wins, which helps them out quite a bit overall. Tampa is the stronger team based on our models, but we're a little lower on Tampa than we have been in years past. The Rangers' skaters actually improved quite a bit from their first round matchup against the Penguins – at even strength, they controlled expected goals for 4 out of the 7 games (they did this only once against Pittsburgh). The scary thing here is that Shesterkin was actually better in this series than he was in the last. His 11.42 goals saved above expected against Carolina now ranks 2nd among all playoffs series goalie performances since 2007 (just behind Jake Oettinger's round 1 series). The question will be, well, will Shesterkin ever falter? I'm starting to think no.
Tampa Bay had little trouble defeating a team that some (including possibly us) thought were top-3 Cup favorites. Giving into gut feelings, especially after round 1, it kind of felt like Tampa might win this series, but that was just us eye-rolling at the Lightning still being good I suppose. They seemed to have little trouble with the President's trophy winners. I mean come on. Tampa and Florida from a skater standpoint matched up evenly, and the Lightning were actually out attempted at even strength. But Andrei Vasilevskiy played out of his mind. His raw all-situations save percentage in the four games was never below 97%, he saved 10.29 goals above expected in 4 freaking games, and he now gets to rest for a week (unlike his opponent). It's like the three-peat was predestined. This would be the perfect time for Tampa to lose because hockey. A quick note: Tampa played all of their games in round 2 with 7 defensemen. At the time of publication, we've gone with this due to the uncertainty around Brayden Point's injury. Tampa's probability here would likely be higher if he was in the lineup.
Western Conference
---
Colorado Avalanche (1)     vs.     Edmonton Oilers (2)
66.2%                        33.8%
---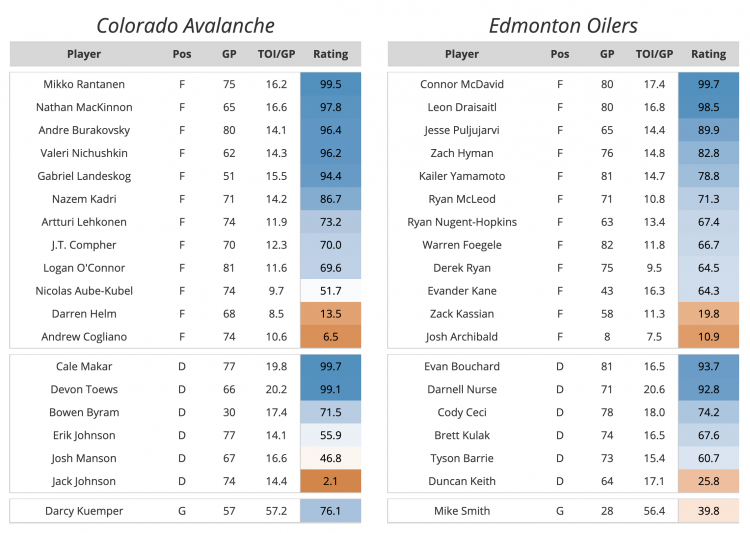 Edmonton pulled it off. For the first time since 2006, the Oilers are back in the Conference final. To be honest, they have McDavid so it's a little embarrassing it's taken this long (sorry). Regardless, the Oilers really have kept things rolling out of the regular season, even if the actual score sheet was insane in this series. They maintained 50+% xGF percentage at even strength in the majority of games against the Flames, pushed through some shaky goaltending, and let McDavid and Draisaitl do their things. Surprisingly, the unsung heroes for the Oilers have been their depth, or more specifically, players like Cody Ceci and Duncan Keith who have been good despite most people's expectations. Their opponent, however, thrives in out-depth-ing teams.
The Avalanche have been really good. They are still really good. I'm getting a little tired of talking about how good the Avalanche are at this point. So I'm not going to write much here. The narratives going into this series seem to be McDavid vs. MacKinnon (the mcconference final's), but I mean, is everyone just ok with overlooking like this entire Avalanche team? Unfortunately, Colorado has been hit with a few injuries, which drops their projection here a bit. Darrem Helm and Jack Johnson in the roster is presumably not the lineup they were hoping for throughout the playoffs. But the Oilers have some depth issues themselves. While we picked the Flames to battle the Avalanche in the Conference Final, the Oilers are more than deserving. This series may present some of the best hockey we've seen in years.