Rosters from CapFriendly's Depth Charts. Data from Evolving-Hockey.
It's the best time of year (for two teams). Colorado swept their series against the Edmonton Oilers to the surprise of quite a few. Maybe the series win wasn't all that surprising, but a sweep? Even we didn't expect the series to go that quickly. And despite the impressive efforts of the Rangers winning their first two games, the Lightning came back in somewhat boringly expected fashion to take the next four games from New York. While we've joked the Lightning are boring because they've just been good for years, the idea of a 3-peat is quite enticing to cheer for. But as always, we cheer for the model. For the first time in years it seems, possibly the two best teams in the league are actually playing each other in the Cup final. I mean no disrespect to Montreal or Dallas or Boston etc, but this is one of the more evenly matched finals in recent memory. Let's hope a sweep isn't involved either way.
Conference Final Results:
| Conference | Home | Away | Round 1 % | Outcome |
| --- | --- | --- | --- | --- |
| East | NYR | T.B | 46.6% – 56.4% | 2-4 |
| West | COL | EDM | 66.2% – 33.8% | 4-0 |
Final
---
Colorado Avalanche (1)     vs.     Tampa Bay Lightning (3)
56.6%                          43.4%
---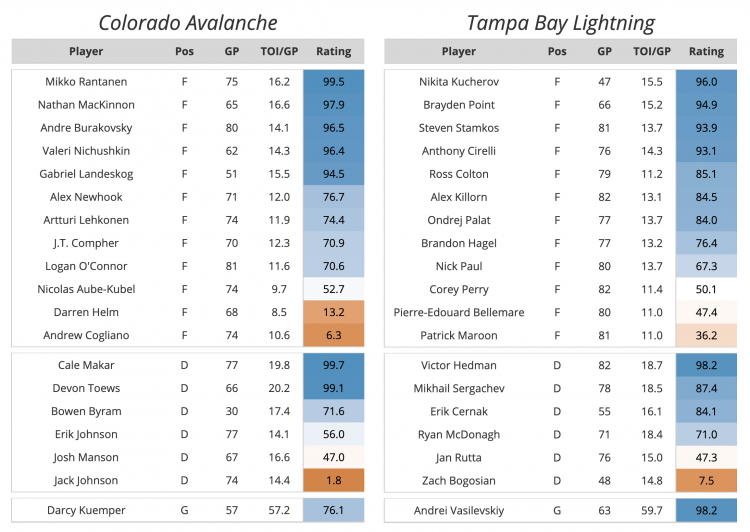 The big story with Colorado will be their lineup without several key players. Both Sam Girard and Nazem Kadri will miss the final due to injuries sustained in the previous rounds. It really is a shame given how important they've been to the team this year. While Edmonton played quite well in the first two rounds, Colorado had little trouble dominating the ice at even-strength. Darcy Kuemper only played in the final game due to injury, and while he wasn't particularly good in his one game, the Avalanche, as they've done all year, played like their goalie didn't matter. This series, however, feels a bit different. Not only are the Avalanche facing a team that can lock things down without much effort it seems, but they also have one of the best goalies in the world. Despite this and even with a few missing pieces, Colorado still has one of the best teams in the league. And they have home ice, which gives them the very thin edge in our projection.
New York made things interesting for Tampa, but almost all of that was due to bad luck in the first two games of the series. The Lightning handedly controlled every shot metric at even strength (I'm not making this up, they out played the Rangers in basically every metric from a skater standpoint). While Andrei Vasilevskiy struggled in game 1, allowing almost 3 goals above expected, he ended the series saving about 0.5 goals above expected – he was just fine. Tampa did all of this without one of their most important players: Brayden Point. At the time of publication, it appears Point will be in the lineup for most of the games (although he seems questionable for game 1). In running our simulation for this series, replacing Point with Riley Nash drops the Lightning's probability in the series to 36%. It's unclear whether he will be completely healthy, but even a somewhat limited Point improves the Lightning.
Buckle up, as they say. This year's Stanley Cup final is shaping up to be quite something.