Round 2 wasn't the most interesting round we've ever watched in the playoffs, but it put in motion two series that few would have predicted (except us). That's a lie. Few thought we'd have these four teams, and our projections picked only two team here, but that's hockey baby. We saw several of the remaining favorites fall, including our favorite team in the league. The Maple Leafs gave those yearning for the ability to make fun of them more content for the offseason, we still don't get to see McDavid play for the cup, and Seattle, like the '02-03 Minnesota Wild, failed to advance in the playoffs in their second year as a franchise. Sorry, that's mean, Seattle should've won, you heard it here first. This Conference Finals is exactly what the NHL wants. Huge markets full of players everyone has heard of playing for glory. Wait, strike that, reverse it. At least for us here, at Evolving Hockey dot com, the third round is exactly what we want. The Unexpected.
Eastern Conference Final
---
Carolina Hurricanes (1)    vs.    Florida Panthers (WC2)
55.6%                         44.4%
---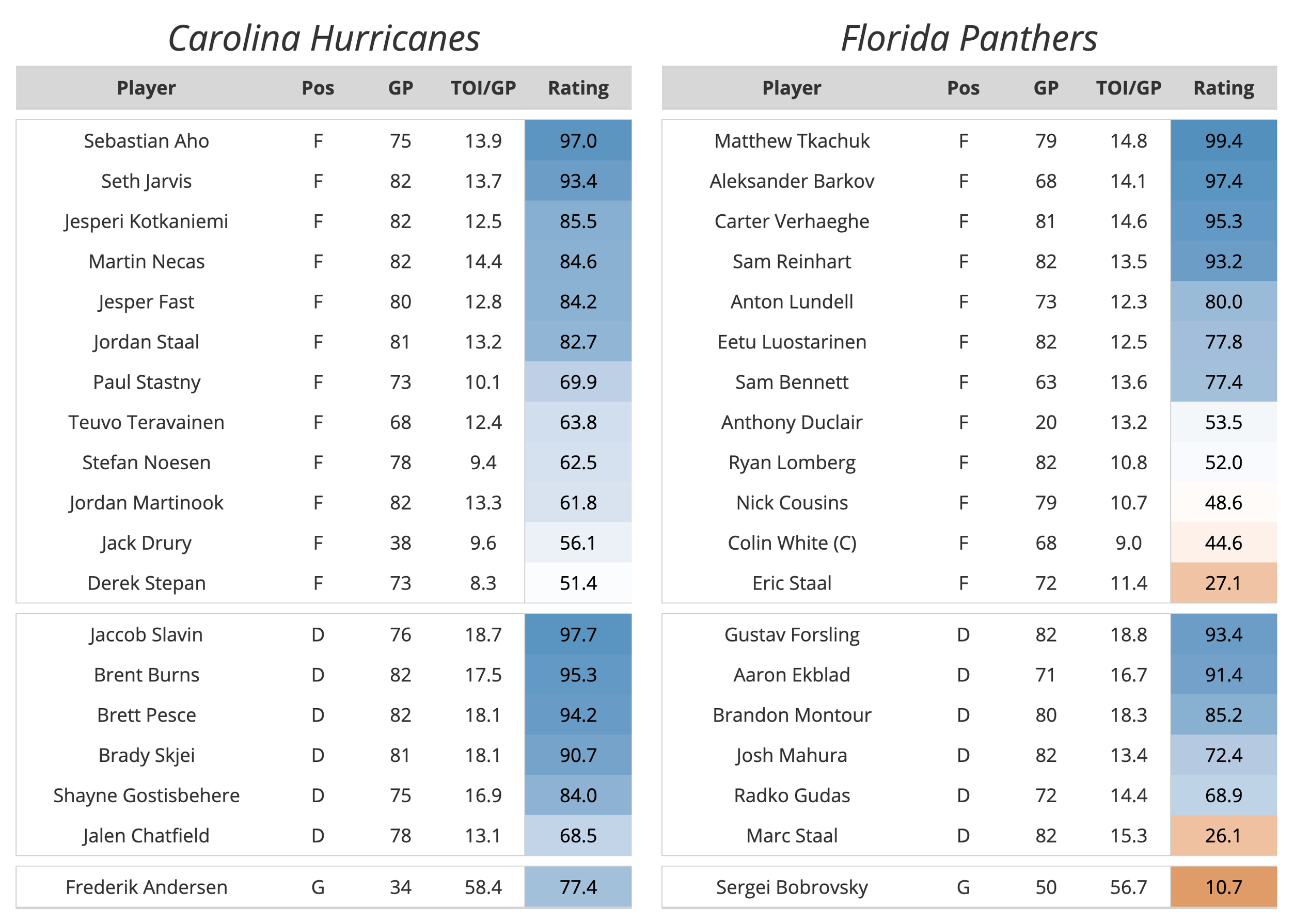 The biggest question surrounding Carolina heading into the playoffs this season was the ability to do the goal thing. They finished the regular season with the 4th worst even-strength shooting percentage, and the first round looked like that might continue. But their 24 goals (in 5 games) against New Jersey topped all second-round teams, and while New Jersey undeniably did their part to allow at least some of them, the Canes' depth has proven quite ample. Veterans Jesper Fast and especially Jordan Martinook have driven play solidly for Carolina; Martinook's 17.5 relative-to-teammate Corsi ± at even-strength ranks second among playoff skaters. Possibly more impressive was Frederik Andersen's performance, "filling in" for Anti Raanta, allowing only one goal in three of his five starts. With 66.6 shot attempts per 60 through the first two rounds, no team has pressured harder than the Canes. Big Corsi, it seems, is winning after all.
The Panthers did the thinkable – they beat the Toronto Maple Leafs in the playoffs. I kid, of course, but this Florida team continues to show why their regular season performance made no sense. No team has iced a steadier skater group: their top-three forward lines and top-two defensemen pairs sit among the top-10 in even-strength minutes played within their respective populations, and for good reason. Everything is working for the Panthers, even if they only out chanced the Leafs in one game per our xG model. Even their goaltending is clicking unbelievably well; Sergei Bobrovsky saved 9 goals above expected against Toronto, now only trailing Igor Shesterkin on the GSAx leaderboard. As goalies have been wont to do this round, Bob showed we were fools for his 11th percentile projection last round, fully returning to his '17-18 Columbus form. If any series may show us what kind of team the Panthers actually are, it will be this one. Paul Maurice has no doubts.
Western Conference Final
---
Vegas Golden Knights (1)    vs.    Dallas Stars (2)
44.9%                         55.1%
---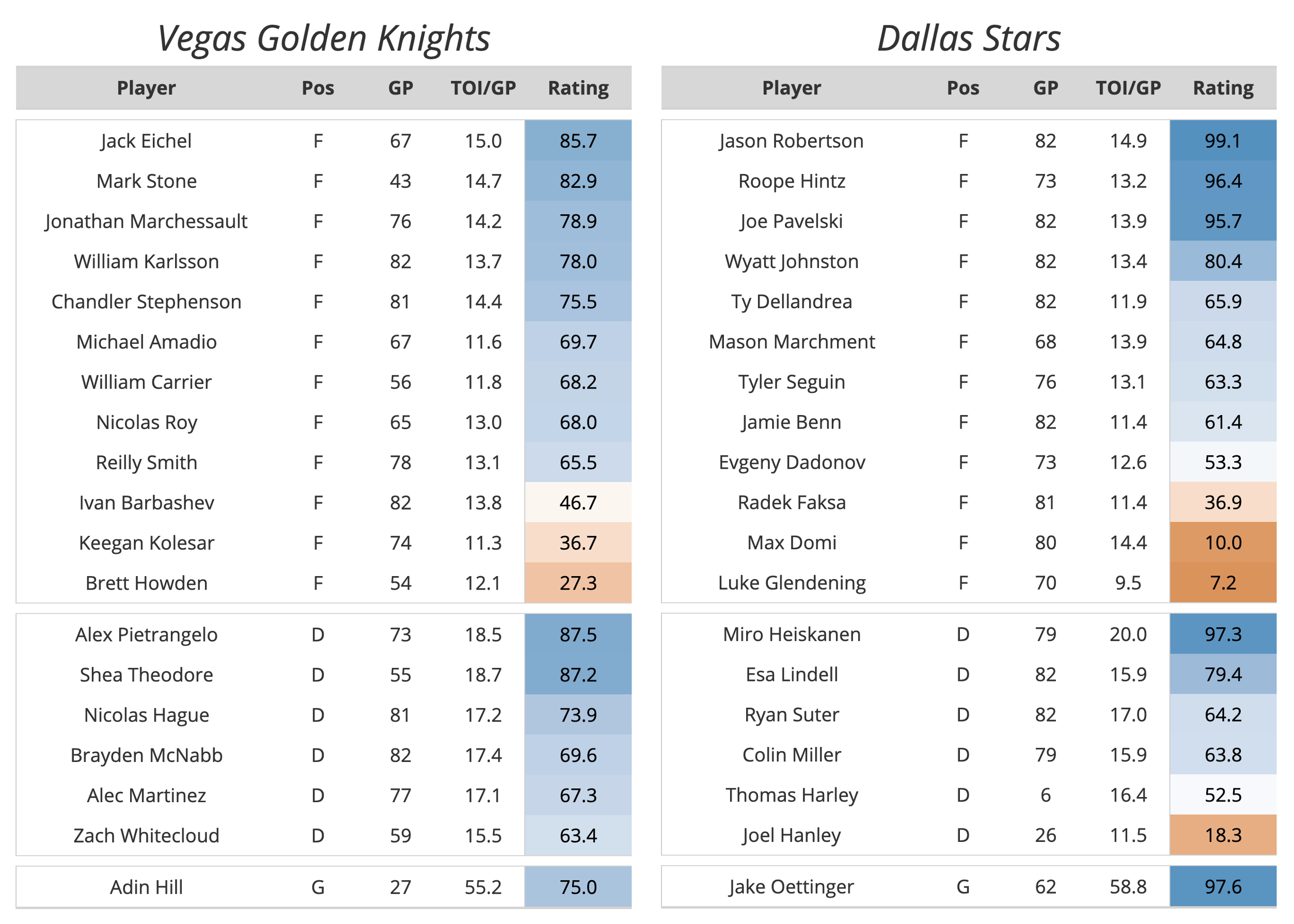 Well, I guess Vegas actually is good? As we noted in our first-round preview, the biggest issue with Vegas didn't necessarily have to do with who was on their roster but more with what that who actually was, at least in expected performance. So far, this Knights team looks like those of years past, except with a rejuvenated Jack Eichel along for the ride. While the NHL didn't promote it this way, we finally got to see the battle of Eichel vs. McDavid, and for Jack Eichel truthers, this had it all. Vegas has been exceptionally good at even-strength through two rounds, posting 3.5 goals per 60 at EV, more than half a goal above the next best in Carolina. Interestingly, their actual shot attempt generation has been sub-par (lowest CF% among remaining teams), but they are significantly out-performing that in quality. Jonathan Marchessault may be the real story for Vegas, reminding everyone just how absurd it was he was exposed by Florida. While Laurent Brossoit seems questionable for this round, Adin Hill filled in quite nicely, saving nearly 6 goals above expected in his 5 games. Despite what Shawn thinks, we're rooting for Mark Stone because of course that's what we're required to do as stats people.
It took a full, close, seven games for the Stars to overcome the unlikeliest of teams in Seattle, but they did it, even if Luke and I are mad about it. Dallas may be the most interesting team in the playoffs, even if they've been somewhat under covered. Through the first two rounds, no team has allowed fewer chances at even-strength (2.1 xGA/60) or controlled chances better, and few have dominated games the way Dallas has. A healthy Joe Pavelski returned to form with 4 goals in game 1, reunited with the fantastic Robertson and Hintz, who continue to power the Stars. However, we may have cursed Jake Oettinger in our round 1 preview; he allowed over 7 goals above expected in six games only saving more than expected in game seven. While this seems like an obvious anomaly given his previous performance (and our models), this unexpected struggle poses a big question for Dallas against a team that just took out the Western Conference favorites. Regardless, the vibes are strong (Shawn made me write this), Jason Robertson is still him (Shawn also made me write this), and our model continues to love this Dallas team. This will be one hell of a series.