And then there were 2, as they say. The 2023 NHL Conference Finals ended a few days ago, and the Stanley Cup final begins this coming Saturday. While some of us may have watched the entirety of the four-overtime spectacle while reminiscing about other incredible sporting events (us), the 3rd round felt a little underwhelming. Both series were 3-0 at one point, and while Dallas gave it their best despite the idiotic antics of Jamie Benn, both may well have been sweeps.
Regardless, the Stanley Cup is on the line, and possibly the two unlikeliest teams are playing for it. As we've already covered in the previous rounds, the Panthers made the playoffs by a loser point, and while the Golden Knights won the Pacific (somehow), few put weight on their ability (including our models) heading into this year's playoffs. Boston vs. Edmonton is what everyone expected, and in the pure tradition of Hockey, we got the opposite. Regardless of your opinions about the last few rounds and / or whether you even watched them, the 2023 Cup Final is likely the most unique matchup we've seen in years. I for one am ready for another 4 OT game and 6 hours of nonsense. [deep breath] let's go.
Conference Final Results:
| Conference | Home | Away | Round 1 % | Outcome |
| --- | --- | --- | --- | --- |
| East | CAR | FLA | 55.6% – 44.4% | 0-4 |
| West | VGK | DAL | 44.9% – 55.1% | 4-2 |
Stanley Cup Final
---
Vegas Golden Knights (P1)    vs.    Florida Panthers (WC2)
35.7%                         64.3%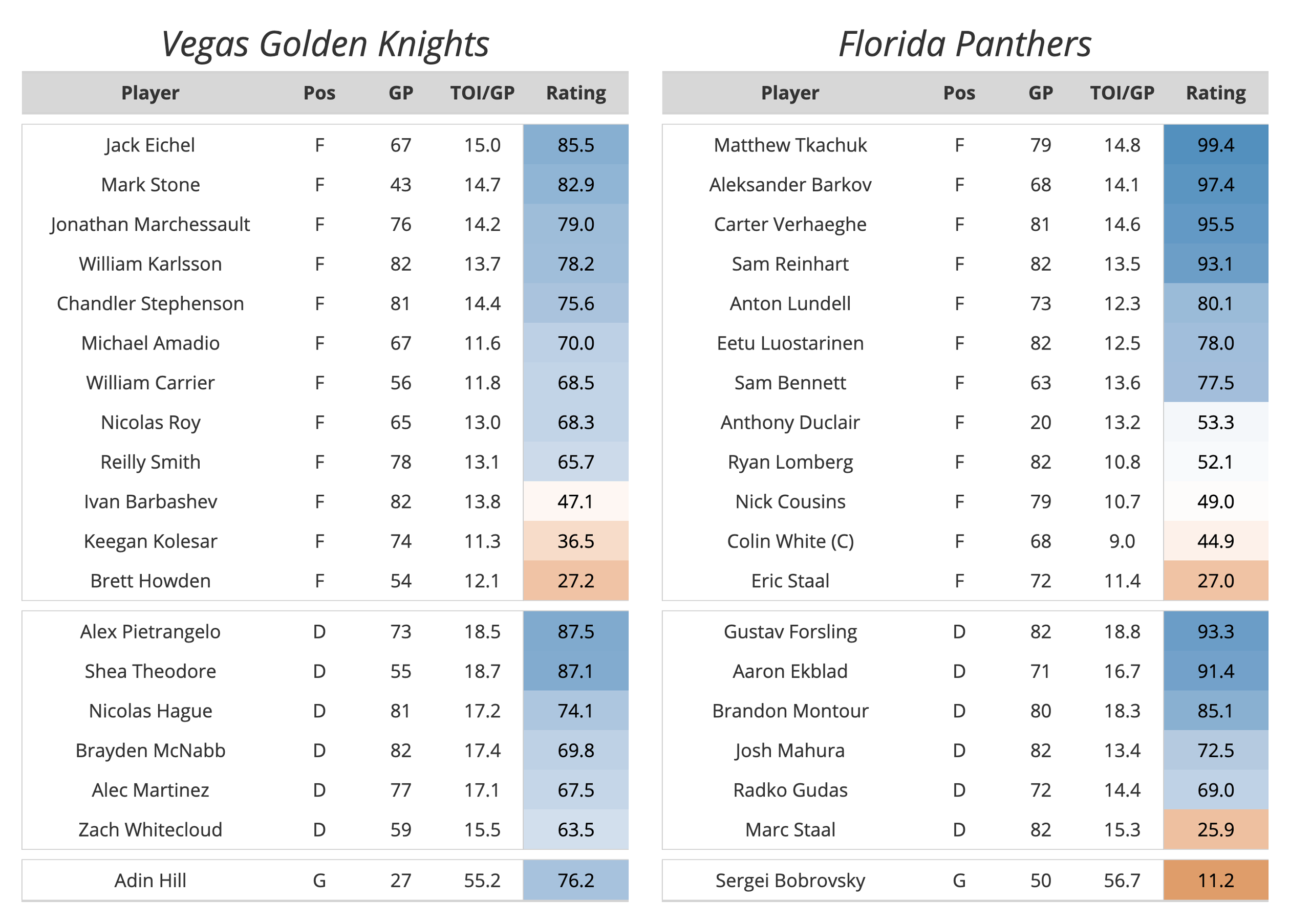 No one thought Vegas had this in them. In our first round preview I wrote "The main concern, or what our model is probably worried about, is what kind of team Vegas actually is given the extremely uncertain roster over the past year." It's pretty clear what kind of team Vegas is, at least the version we've seen in 17 games so far. Their series with Dallas was a legitimately back-and-forth affair, even if the goals didn't reflect it; dominating in games 1 and 6, dominated in games 3 and 5, and even in the other two (based on our xG model), but when it's worked, everything seems to be going right for the Knights. Possibly the most interesting reason for Vegas' success has been their top line: Barbashev, Eichel, and Marchessault trail only Dallas' top line in EV on-ice xGF%, and only two of their forward-line combinations are below 50% with a minimum of 30 minutes. In Laurent Brosoit's absence, Adin Hill has played quite well. Among all goalies, only Bobrovsky (we'll get to him) has a higher Goals Saved Above Expected in this year's playoffs. Vegas has a deep, well-rounded team, but their weakness may turn out to be a lack of much more. Our models haven't liked the Knights all playoffs, and that hasn't changed here.
The Panthers just won't quit. Few teams have embodied the "Just win, baby" ideology like this year's (or rather this year's playoffs) Florida Panthers. Carolina out chanced them in all four games and outshot them in three, Toronto put up similar numbers, and Boston held the majority in the shot metrics as well. But Florida keeps finding a way: Sergei Bobrovsky. I'm somewhat joking here with the colon, but let's be honest: what the hell is going on. Bob has only allowed more goals than expected in two games these playoffs. He wasn't even their round one game one starter. He's already second among all goalies to play in the playoffs in GSAx since 2007, and he's played 6 less games than the leader (Shesterkin last season). Disregarding goaltending for a minute, Matthew Tkachuk may just be the biggest narrative this year, and, as ridiculous as it sounds, he may be challenging Bob for Conn Smythe consideration. We here at EH have known about Tkachuk for a while, so this isn't surprising. And Verhaeghe was one of our guys two years ago, and Sam Reinhart has been a darling for years, and Barkov is Barkov. However, we maybe didn't know about the effectiveness of the Mahura / Gudas 3rd pair, or Same Bennett's impact? Florida has an electric team, even if they're winning in ways that feel a bit unsustainable. It's the playoffs, right? What's four more games?
---
I'd just like to take this opportunity to say thank you to everyone who's followed along with us this year and supported the site. It's been a blast to continue working on Evolving Hockey, and we're extremely grateful for all the support we've received from all of you.
Love,
Josh & Luke