Update: As of July 18th, 2021 (this past Sunday), all NHL teams (excluding the Vegas Golden Knights) have submitted their protected lists for the 2021 Seattle Kraken expansion draft. As we mentioned at the end of our previous article, we have updated our "team" based on these final lists. Please reference our previous article for all information about the rules, our process, and what our original team looked like!
We now have the final protection lists for all teams heading into the Seattle Kraken's expansion draft this Wednesday (July 21, 2021). This makes our "job" much easier in terms of drafting our own team since there is no research required to arrive at the available players in the draft. For NHL fans, there really is nothing better than an offseason that includes an expansion draft, eh? The Stanley Cup final finished a week ago, the expansion draft is in two days, and free agency starts in 9 days. What fun!
Before we get to the team, let's talk about how the final protected lists vary from the original. As we covered in our initial article, we arrived at our initial lists with the help of numerous outlets/people. For the most part, they were actually quite good. Of the 324 players exposed, we only missed 52 of those players (~16%). In addition, only two teams picked different protection options. We originally projected Toronto to choose the 7F/3D/1G protection option and Anaheim to choose the 8 skater/1G protection option – both chose the opposite. Interestingly, Nashville did choose the 8/1 option, but they opted to protect three forwards and 5 defensemen instead of the "standard" 4F/4D choice – only the New York Islanders went this route in 2017.
Here is Evolving Hockey's final Seattle Kraken expansion team: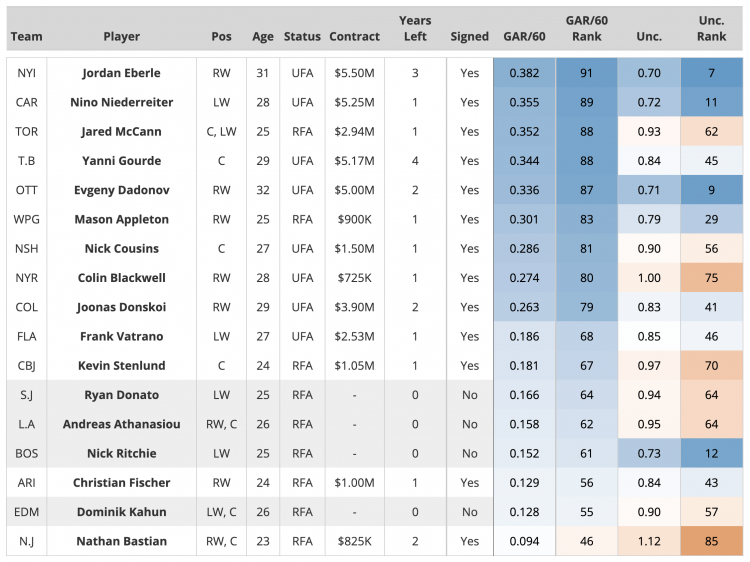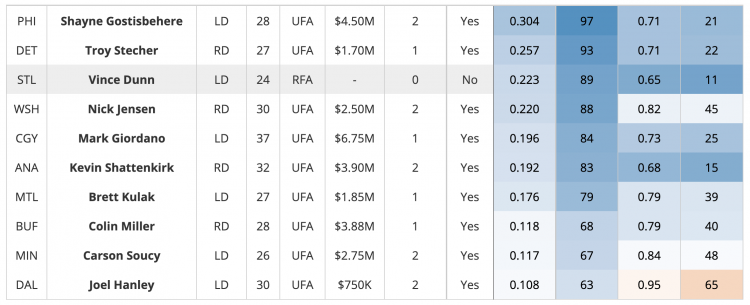 Before we get into some specific scenarios, let's cover a few interesting differences between our original team and the final team:
There are now 25 players under contract for the '21-22 season compared to the 20 that were previously picked.
The total salary amount for all 30 players (excluding the five unsigned players) is ~$71.2M. This is an increase of ~$10M.
In our original draft, four pending UFAs were protected. Joel Armia was the only pending UFA protected (by Montreal) in the final protected lists. He was also not protected in our initial draft.
Of the 30 players we picked a week ago, 14 of those players remain. Two of the three goalies we picked are new, and the split for F/D has shifted from 14/13 to 17/10.
The average age of the final team increased by about a year – from 26.7 to 27.6 (the median age increased from 26 to 27).
Teams exposed better players than the consensus lists thought they would. Goalies excluded, the average GAR/60 rank among all skaters increased from 71.7 to 76.1. Jordan Eberle, Nino Niederreiter, Jared McCann, Evgeny Dadanov, and Troy Stecher enter their respective position's top-5 among picked players.
This team is better than the original team we picked a week ago. It's also older, and the cap hit is higher (almost entirely due to the increase in signed players). Seattle will not play and/or keep every player here, so a lot of this will depend on who the Kraken choose to roster. For the most part we followed the same process that we did before, but a few players were passed over almost entirely due to their contract (which wasn't the case previously). The following players would have been picked from their respective teams had their situation not be basically untenable:
Jeff Skinner, BUF: $9M, 6 years
Ben Bishop, DAL: $4.916M, 2 years
Carey Price, MTL: $10.5M, 5 years
Matt Duchene, NSH: $8M, 5 years
Marcus Pettersson, PIT: $4.025M, 4 years
Max Domi, CBJ: $5.3M, 1 year
Max Domi and Ben Bishop are the only players that we didn't pick due to factors beyond their salaries. Max Domi is just not good. He is a center, and he's still rather young – at least enough for an expansion team – but Columbus' 4th line center Stenlund actually projects a bit better from a rate standpoint and makes about $4M less than Domi.  Bishop is 34 years old and missed the entire '20-21 season. He did waive his NMC, but even if he returns to his prior season form, this would be a very risky pick for Seattle.
There is also a group of players we did select that some may find objectionable for similar contract/age reasons:  Jordan Eberle, Evgeny Dadanov, Nino Niederreiter, Mark Giordano, Kevin Shattenkirk, and (possibly) Yanni Gourde. However, these players were, for the most part, so much better than any other player available from their team that it didn't make sense to pass on them. Of these, I think Giordano is likely the most uncertain due to his age (37 years old) and contract. Calgary also have Kylington available, and while he doesn't project nearly as well as Gio, "Boston could get Barzal, Connor, and Kylington here". Frankly, I don't really know much about Kylington from a scouting or prospect viewpoint, and our projections are not particularly high on him. But if Seattle doesn't like the idea of Gio's $6.75M contract, I can absolutely see them going another direction.
This discussion, however, is venturing into an organizational or future-planning area that we didn't set out to tackle. During this entire process, we've been working under a "win-now" structure – that is to say, all of our "picks" have been based on the best players available according to our projections for next season (adding in a little context). I think it's important to remember that Seattle may not necessarily want to "win now". I can see three possible routes Seattle opts for in their approach to the expansion draft:
Win now. Take the players you think will be best for your team next season. Build up your franchise, grow the fanbase, show the league why every other organization sucks.
Build for the future (tank). Take young players you feel have overlooked upside. Draft players you can flip for picks before the season. Make side deals, get some "ok" players + picks instead of the better option.
Do both. Go young but not at the expense of better picks. Make side deals, but not at the expense of better picks. Pick players you can swap for the future, but not at the expense of a good team in your first year. Also hope your goaltending holds up (we didn't really talk about this but the goalies available are …).
The last option may be the best choice, but it also seems a bit like the kind of indecision that may lead to a first round playoff series that goes nowhere for a few years. There will no doubt be a few side-deals made ahead of Wednesday that are unknown to us now, but with the final protection lists set, this is what we would most likely do if we were Seattle. Regardless, this offseason is set up to be one of the best in a long time. Hell, Vegas' draft was so boring I hardly even remember that summer. Just remember: stay hydrated, get some sleep, and exercise. Or something. I don't know I'm not your Dad.