Nothing screams Evolving Hockey quite like starting a weekly blog and going on vacation the very next week. Well, here we are on the third Monday of the young season. To be honest, writing about on-ice events feels almost inappropriate. When we dropped the last podcast episode last Monday night, we had no idea about the news that would be released the next day. This is an incredibly dark but necessary time of reflection for the NHL. I have never been good with words (ironic I know) but my heart goes out to the victims and their families.
Andrew Mangiapane's Breakout
A name that has come up on our podcast a few times now is Andrew Mangiapane. Not only does he have one of the best names in hockey, but he's very good too. Drafted in the 6th round of the 2015 draft, he is heading into his third full season as a Flame, playing 10 games in 2017-18 and 44 in 2018-19. A solid two-way presence, he notched 32 points in 56 games last season. Of course, we don't care for points too much at Evolving Hockey, but he's appearing on people's radars now thanks to a tad bit of shooting luck that has helped him score 7 goals so far this season.
He's been on our radar for quite some time thanks to his terrific GAR and RAPM numbers.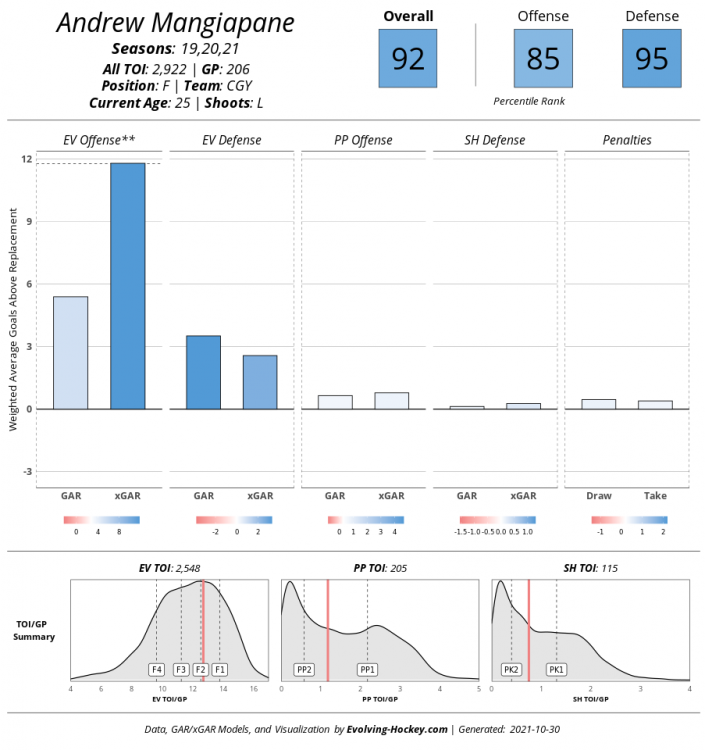 Like a summer fling, the shooting luck will end eventually. It may be tomorrow or next month, but it will end. However, what is left at the end of that is a terrific all-around winger who is an RFA at the end of the season.
Mitchell Marner Finally Scores
It's safe to say that it's been a rough start for Mitch Marner this season. Whether it was the Amazon series, or just hockey being hockey, the twenty-four-year-old has been an anchor for the Toronto Maple Leafs so far. However, Saturday night was one of the first bright spots of his season. Alongside John Tavares and Alex Kerfoot, Marner put up a season-high +0.65 expected goal differential at 5v5, and was on the ice for 4 of the 5 Toronto Maple Leaf goals including his own.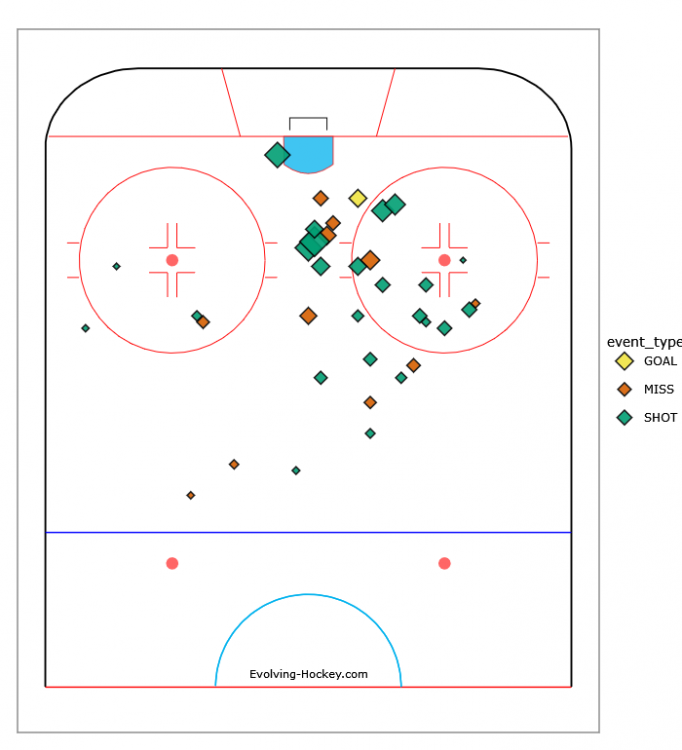 Marner had gotten his fair share of chances at all strengths in the first nine games, but it was a mistake by the Detroit Red Wings netminder that gave Marner the eventual game-winning goal and his first of the season. Will this be the end of Toronto's tough opening stretch, or is there more to come?
Panthers Fall but are Still Shining
It was a week of mixed emotions for Panthers fans. On Wednesday, John Quenneville was given the opportunity to (hopefully) coach his last game in the NHL. It was a 4-1 victory for the Panthers, lifting them to 7-0-0, but the defense continued off of the ice as Bill Zito shielded Quenneville from the media. With Andrew Brunette behind the bench, Florida won their match against the Red Wings Friday night before dropping a game to the Bruins in a shootout the following night. That leaves the Carolina Hurricanes as the only undefeated team left in the league. However, this Panthers team sits first in even strength corsi differential per 60 RAPM and fifth in even strength expected goal differential per 60 RAPM.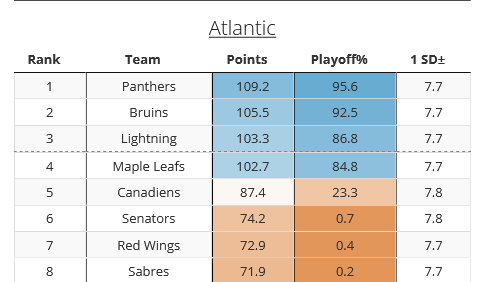 As I write this on Sunday night, they look to be the kings of the Atlantic Division for now and are set to contend with the Avalanche, Hurricanes, and Golden Knights for the President's Trophy come April.
The Return of Freddy Andersen
It's safe to say that the end of Freddy Andersen's time in Toronto wasn't the greatest. In just 24 games last season, Andersen allowed 11.14 more goals than expected, which was eleventh-worst in the league. Ultimately, he lost the starting job to Jack Campbell, and when July 28th came, Kyle Dubas and the Toronto Maple Leafs let Andersen walk. Well, I guess it was really a plane flight over to Raleigh where the Carolina Hurricanes welcomed him with open arms and a foggy memory of his recent struggles.
After Sunday afternoon's game against the Coyotes, Andersen has saved 10.27 more goals than expected. A miraculous turnaround from his previous subpar seasons. It is important to point out that the takes that Andersen is playing in front of a much better defense are without much basis. While the Hurricanes defensive style may fit Andersen better, they are in the bottom third of the league in terms of the quantity and quality of shots they give up. In fact, it would be harder for Andersen to save so many goals above expectations if he was playing behind a better defensive team, like the Toronto Maple Leafs. Good for Freddie and hopefully he continues to play well in Carolina.