Kris Russell's Blocked Shot Record
On Saturday night, Kris Russell broke the NHL record for blocked shots. This is a box score stat that isn't looked upon too highly in the analytics sphere. The premise of that distaste stems from the fact that in order to block a shot, there must first be a shot attempt against your team – a negative event. Still, if when there does happen to be a shot headed towards your own netminder, blocking a shot is a lot better than allowing a goal.
Since Russell broke into the league in 2007, there have been 33 defensemen who've blocked 1000 shots at 5v5. Of those, only 4 managed to block more than 10% of the shot attempts their team faced. Russell leads that group by a long shot at 12.6%, with the other three players being Alec Martinez (11.2%), Andrew MacDonald (10.8%), and Niklas Hjalmarsson (10.4%). So while it's probably not correct to applaud his aggregate total of blocked shots, he has gotten there in an effective way.
Here Come the Rangers
On the last Evolving Weekly, I mentioned how the New York Rangers were getting outshot and outchanced on a regular basis, relying heavily on their goaltender. However, before I headed to TD Garden to watch them play on Friday afternoon, I noticed that they were trending in the right direction. And just like their season thus far, after a rough start where they were heavily outshot in the first, they turned their game around and held their own in the second and third periods, beating the Bruins 4-2. Since Veteran's Day (November 11th), the Rangers have a 57.8% share of expected goals at 5v5 in 7 games once you adjust for score state and venue. I still hold the same comments as last time that if the Rangers can find a way to hold their own at 5v5 like they've been doing these last two weeks, they will put themselves in a position to make a deep playoff run on the back of their talented goaltender.
The Thanksgiving Cutoff
Hockey has some strange "general rules" if you wish. Its fascination over scoring first is a good example (see Bayes theorem). Being in a playoff spot on American Thanksgiving is special to the National Hockey League. The majority of teams that sit in a playoff position on American Thanksgiving end up making the playoffs come spring. Generally, 4-8 teams will defy this rule and either make the playoffs with a good stint in the last three-quarters of the season or fall out of the running.
A simple look at the season point projections can give you a good idea of who those teams will be. Currently in, projected out in the Eastern Conference is Columbus. The Blue Jackets are currently rocking a 48.2% share of expected goals at 5v5 right now and are starting to see some of their shooting luck come back down to earth. This wasn't a team we forecasted to make the playoffs, therefore, we'd expect to see them fall a bit more as the season progresses. Currently out, projected in is Boston. The Bruins lead the NHL in 5v5 expected goal share, but poor goaltending has been their Achilles heel so far this season. Tuukka Rask returning to skating at Warrior Ice Arena this week could add an interesting spin on the season.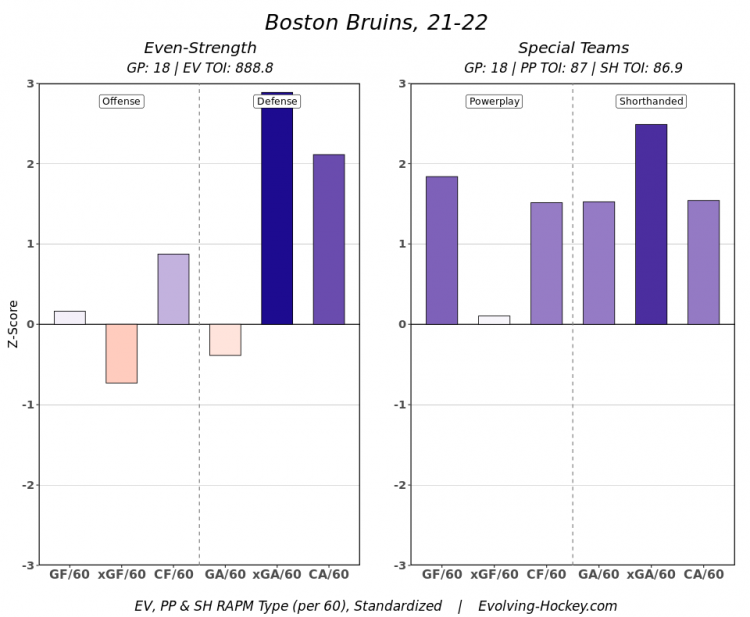 The Western Conference is a bit more up in the air for the Wild Card spots, but we, unfortunately, do not forecast the Anaheim Ducks staying in a playoff position come this spring. They are being led by an impressive effort by Troy Terry, but lack much depth after that.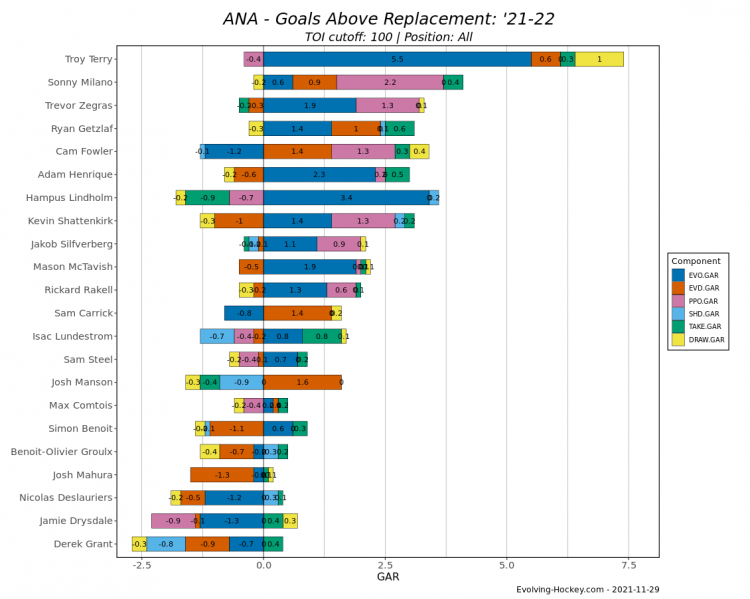 Furthermore, the Ducks powerplay, which was dead last over the last two seasons, is scoring at the 6th highest rate despite not adding anyone to significantly tip the scales. Terry has scored 4 goals on 7 powerplay shots on goal while Sonny Milano has scored 3 on 7. Nashville and Seattle seem to be the most likely to take their place come April.