I can't speak for everyone, but October is the most exciting time of my year outside of April. It's a period of time filled with naivety and positivity for the upcoming hockey season. One in which feels like there is a case for every team and player to exceed our expectations, no matter how high or low they sit. Plus, it's also a time for these silly little previews and pumpkin spice lattes. 
Why do we write stuff like this? I think it's because the thrill of occasionally being right outweighs the vulnerability of being wrong for everyone to see. Last October, the general feeling around the league was that 2022-23 could be the year that the Bruins fall out of the playoffs. Instead, they set a record-breaking regular season for Patrice Bergeron and David Krejci's send off. And how naive were we all to think that the Flames would make the playoffs? Shouldn't we have seen their miserable season coming a mile away?
The season preview is coming where Josh breaks down the end of year standings projections, but we thought it would be fun to discuss some specific players to watch for this coming season.
Erik Karlsson (D), Pittsburgh Penguins
Projections: 19 G, 55 A, 74 Pts, 10.1 GAR
To me, Erik Karlsson is the most interesting player heading into the 2023-24 season. After a forgettable 2021 season, Karlsson was able to bounce back quite silently in the 2021-22 season. An arm injury in late January limited him to just 50 games, but his stats over that time period were stellar. He recorded 35 points, 2.6 SPAR, and 4.7 xSPAR. But was he a player playing to his $11.5 million cap hit?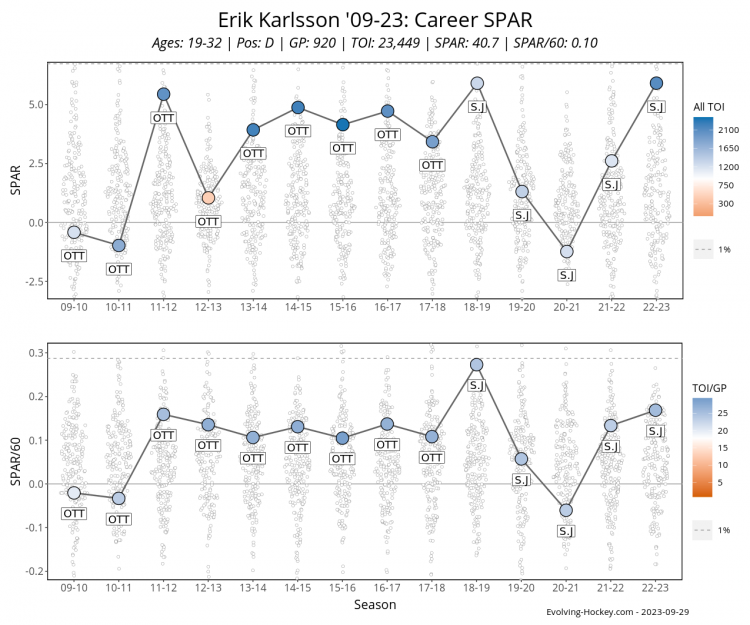 What ensued in the 2022-23 season was one of the best comebacks we have seen. Karlsson followed his 2021-22 season with a Norris Trophy-winning campaign, breaking the 100-point barrier – the first time a defenseman has done that in the RTSS era (since 2007-08). He was also fourth among defensemen in SPAR and first in xSPAR.
While he may not have been worth his cap hit in the first three seasons of his deal, he certainly was last year. At $3.62 million per SPAR, he was worth $20.6 million last season. But with the Sharks not in a position to compete, and in need of some cap flexibility in the back half of his contract, they spent most of their spring and summer trying to find the Swede a new home. Eventually, they were able to accomplish that on August 6 with a wild three-way trade involving the Sharks, Canadiens, and Penguins.
Now settled in Pittsburgh, it will be interesting to see how the 33-year-old adapts to his third NHL team. The models are high on him with a GAR projection that is fourth among defensemen behind only Cale Makar, Adam Fox, and Devon Toews. Will he be able to repeat his success, or will he sink back down towards his covid season?
Andrei Kuzmenko (F), Vancouver Canucks
Projections: 27 G, 30 A, 57 Pts, 6.5 GAR
In the Pacific Northwest, Andrei Kuzmenko is the player that intrigues me the most. Prior to last season, Kuzmenko had spent his entire career in Russia, the last four seasons of which were with SKA St. Petersburgh of the KHL. The Canucks knew that they got a good player when they signed Kuzmenko in July of 2022, but what they did not expect was a player who was two goals shy of being a 40-goal scorer in his first NHL season. Just four days prior to Vancouver electing to move on from pending unrestricted free agent Bo Horvat, they chose to extend Kuzmenko to a two-year deal paying out $5.5 million in gross annual wages.
There is no doubt that Kuzmenko had a fabulous 2022-23 season as it pertains to both his box score and advanced metrics. However, the models are a bit conservative on his projections for the coming year for good reason. While it may have been his first season in the NHL, Kuzmenko is far from a young gun. He is already 27 years and eight months old. Players typically start declining slowly at this age. Furthermore, unless he has the best shot in the world, his 26.8% shooting percentage should also be unsustainable. That's not to say that he is due for a subpar shooting year, it's just that it is very unlikely that he can repeat a mark so high. And while the model isn't putting too much into it, perhaps it is worth noting that 21 of his 35 assists last season were secondary assists. Secondary assists are less repeatable than primary assists. His 0.64 primary assists per 60 last season ranked 198th among forwards who played 500 minutes. The models think he'll have a good season, and you should too; the question is, how good.
Ryan Johansen (F), Colorado Avalanche
Projections: 14 G, 21 A, 35 Pts, 0.4 GAR
Shortly before hosting the NHL Awards and Draft in June, the Nashville Predators decided to part ways with Ryan Johansen. The team originally acquired him in a one-for-one deal from Columbus in exchange for Seth Jones. In his first full season with the Predators in 2016-17, he was an effective player on both sides of the puck and played every game for them including a Stanley Cup Final run. The following year, he took a slight dip, but was a contributor to their President's Trophy campaign as well. Thereafter, Johansen would quickly fall off to the point where he was below replacement level last season and recorded 28 points in only 55 games. New GM Barry Trotz decided it would be best for the team if they spent $4 million annually over the next two years to get rid of him.
With a clear need at center after the departures of Nazem Kadri in the summer of 2022 and JT Compher and Alex Newhook this past summer, the Colorado Avalanche elected to take a chance on the 31-year-old with a reduced price tag. Both the numbers and eye test agreed that Johansen could no longer play into the role he was paid to play in Tennesse, but Colorado's hope is that with a reduced role, they can spark a revival of sorts.
John Klingberg (D), Toronto Maple Leafs
Projections: 8 G, 26 A, 34 Pts, 3.3 GAR
When the Maple Leafs and Kyle Dubas had their breakup this summer, we didn't know what to expect. The choice to sign John Klingberg on July 1 for a one-year contract at $4.15 million felt like a repeat of a previous Dubas mistake, but without much available on the market, it is clear why the Leafs took a chance on Klingberg.
Under Rick Bowness, the 6-foot-3 defenseman had quit the slide in performance. Both Klingberg and the Dallas Stars could not come to an agreement on a long-term extension in the summer of 2022, one that Klingberg felt that he earned and that the Stars were uncomfortable handing out. He entered free agency to discover that the market wasn't there for him, and settled for a one-year, $7 million deal with the Anaheim Ducks, presumably knowing he'd be flipped at the deadline. But after a horrible season, there wasn't much trade value come February, and there wasn't a market for a long-term deal this summer either.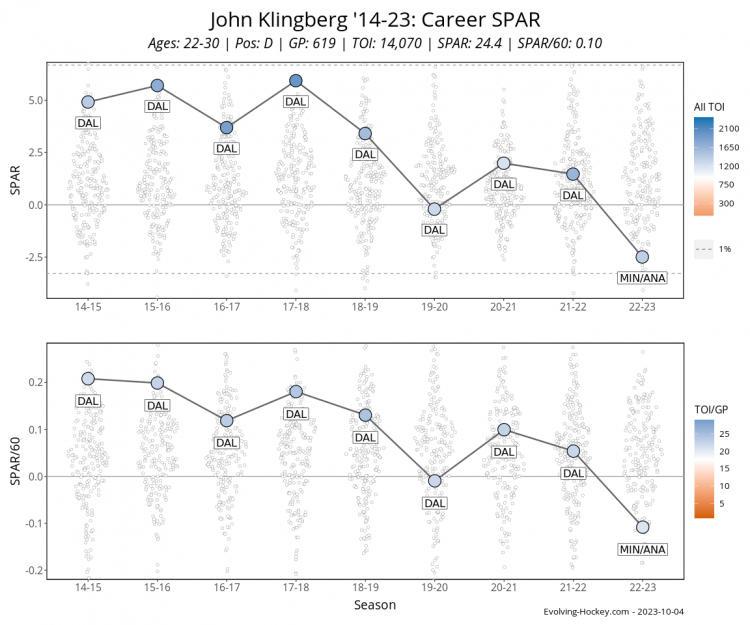 This deal feels an awful lot like the one Dubas made on Tyson Barrie, which did not work out very well. The Leafs are hoping that they can mask the defensive shortcomings while reaping the offensive upside that Klingberg has to offer. It's a bet that makes sense in any other market. If it works out, great; if not, it's only one season. But in Toronto with a Stanley Cup-contending team, if it goes south then it's going to be ugly.
Honorable Mentions
Of course, there are many more players to be intrigued about this season. From rookies like Matthew Knies, to players stepping into bigger roles like Pavel Zacha, to veterans looking for a fresh start in hopes of winning a Stanley Cup like Matt Duchene, there's so much to watch for this season. The good news is, Evolving-Hockey.com will have all of the stats you need to follow your favorite players and teams all season long.