Contract Projections
We will be releasing our contract projections for the 2022 NHL offseason on May 16, 2022. We had originally planned to release the new contract projections on May 1st, but given the very quick turnaround between the regular season and playoffs, along with the time we will need to devote to playoff coverage, we have decided to push the release date back to after the first round of the playoffs.
---
Subscription Tier Changes
Beginning May 16th, 2022, we will be adding new subscription tiers to Evolving Hockey. Previously, we offered two subscription options – monthly and annual recurring subscriptions, which gave users access to all features on the website. Starting May 16th, we will be renaming our existing subscription tier to "Standard" and adding a new tier called "Pro".
This update will impact the type of features users have access to. The following will be moved from our Standard tier into the new Pro tier:
Projections

Contract projections
Fantasy projections
GAR/player projections
Daily game projections

Query Tools:

Play-by-play query tool
Shifts query tool

CSV Downloads (all)
Here is quick overview of what each subscription tier will offer. "None" here references what features will be free for anyone to access. No account is needed to access these.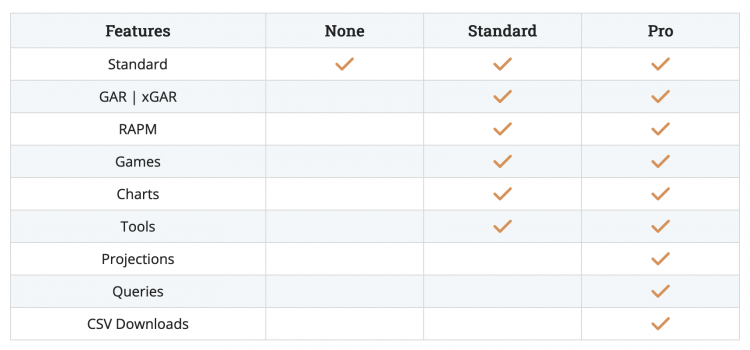 Pricing for the new subscription tiers:

---
Why we are changing our Subscription structure:
When we originally created the subscription platform for Evolving Hockey in 2019, there were far fewer features available on the website than there are now. We have added numerous new features to the site since then and have not changed our subscription structure. The features that we are moving to the new Pro tier are those that require the most work and time for us to maintain year over year. Additionally, expenses have risen as we've added more features to Evolving Hockey. It is much more expensive for us to run the site now than it was 3 years ago.
An important note for existing Annual subscribers:
Due to the transition from our previous subscription framework (Patreon) to the new framework that occurred in May 2021, a large number of our current Annual subscribers subscribed in May 2021. This means that your Annual subscription may recur before the changes covered above occur. After the changes go into effect on May 16th, you will be able to change your subscription to one of the new tiers and pay a prorated amount based on how long your most recent subscription has been active. We will have a more detailed breakdown of how proration for active users will work in the coming weeks.
What does this mean for me as an existing subscriber?
When the changes go live, you will not have access to the features that are moving to the Pro tier. There will be no change otherwise to your price or account. If you would like to change your subscription to the Pro tier, you will be able to do this through your Membership Account page.
---
We appreciate your continued support of Evolving-Hockey. We will have a full FAQ on the site in the next week or so covering more details about these changes. As always, if you have any questions or concerns, please reach out to us at support@evolving-hockey.com or submit anything through our Contract Us form.