A Sunk Cost Fallacy
Things have been going REALLY bad for the Philadelphia Flyers After an offseason of changes, bringing in Cam Atkinson, Ryan Ellis, Keith Yandle, Martin Jones, and of course Rasmus Ristolainen, the Flyers have failed miserably.
Philadelphia is not the easiest market to play in. The fans are demanding, there is a significant amount of media coverage, and the temptation to walk down the street three times a day to consume a delicious Philly cheesesteak. But with Claude Giroux's contract expiring at the end of the season, and Sean Couturier's extension kicking in come July, there is an added tension to this Flyers team. This continuous storyline is well-covered by the tremendous writers on the beat in Philadelphia, but the biggest story for us is whether or not the Flyers will re-sign Rasmus Ristolainen.
When Chuck Fletcher sent Robert Hagg, a 2021 1st round pick, and a 2023 2nd round pick to Buffalo for Rasmus Ristolainen on July 23rd, all signs pointed to Ristolainen being one of the worst players in the league.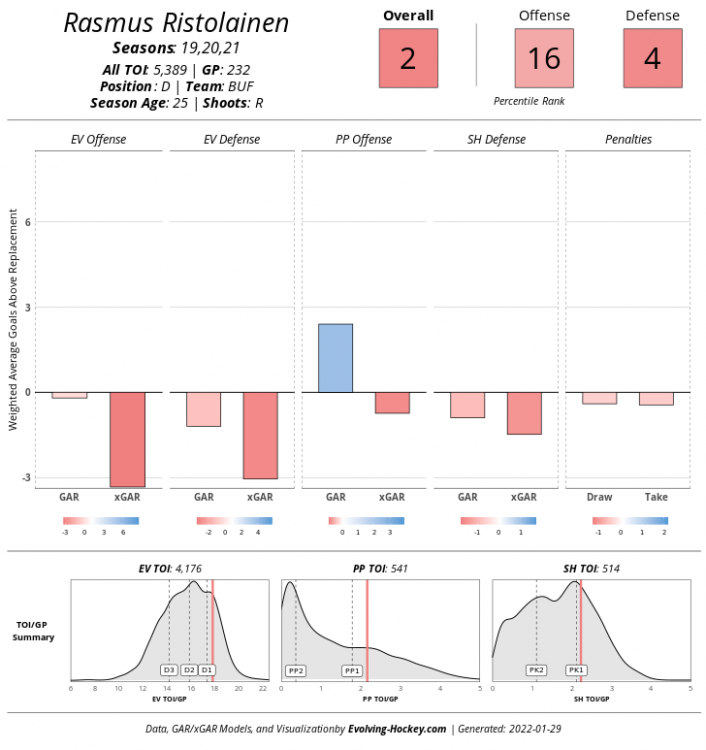 The argument the Flyers were willing to bet on was that Ristolainen was a big fish in a very bad school of fish. He played first-pair minutes at even-strength as well as first unit minutes on the powerplay and penalty kill. Playing on such a bad team, the Flyers front office and analytics department likely thought that he was taking an unfair share of the negative on-ice results.
Believe it or not, there is a good amount of uncertainty in any evaluation metric in hockey, public or private. The Flyers made a big bet on the upper bounds, with the option to double down on their bet within 12 months.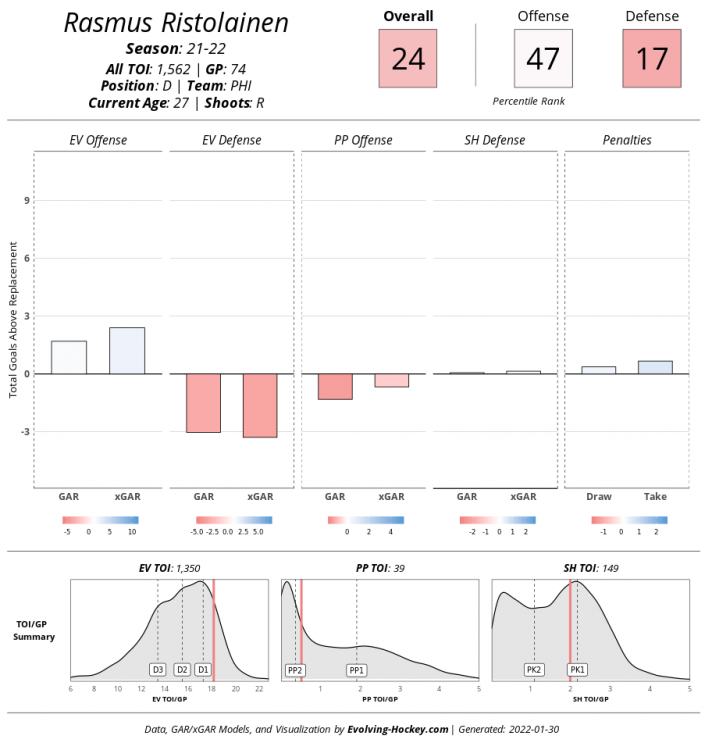 There isn't much evidence that this bet would be worth taking again. He hasn't been a complete disaster, but he's been roughly replacement-level and will be turning twenty-eight in the first month of the 2022-23 season. Time will tell if Fletcher & Co will continue down this route, or place a different bet on a younger player.
A New Era of Blues
There were many decisions to be made for the Blues front office this summer. Hidden behind the drama of Vladimir Tarasenko was the re-signing of the Blues two young guns – Jordan Kyrou and Robert Thomas. The Blues have an older forward core with the likes of Ryan O'Reilly (30), Vladimir Tarasenko (30), Brayden Schenn (30), Brandon Saad (29), and David Perron (33). The addition of Pavel Buchnevich (26) injects a bit of youth in the squad, but the growth of Jordan Kyrou (23) and Robert Thomas (22) has been the secret ingredient for the Blues this season.
Jordan Kyrou has gotten more of the spotlight this season, leading the Blues with 42 points. He is 4th on the team in GAR and 2nd on the team in xGAR with most of his value coming from shooting at even strength. He has 14 goals on 7.97 expected goals. Whether or not he can continue to outscore his expected goals at such a high rate remains to be seen, but there is no doubting that he is a skilled player. He took the prospect world by storm in 2017-18 with a 100+ point regular season performance in the OHL and a 10 point performance at the World Juniors. After a somewhat slow start to his professional career point-production-wise, he seems to be coming alive this season.
On the other hand, Robert Thomas sits 5th on the team in GAR and 8th in xGAR. Unlike Kyrou who has been a goal-scorer,18 of Thomas' 22 5v5 points have been assists. Of the 275 forwards who've played at least 400 minutes at 5v5 this season, Thomas ranks 267th. However, Thomas' extreme playmaking role this season has not hindered his ability to drive quality shots in volume at even strength, translating to goals. The Blues have 2.97 expected goals per hour with Thomas on the ice at 5v5 this season. Perhaps a bit of shooting luck and/or factors that expected goals aren't measuring has boosted that number to 3.77 goals per hour.
The fun part about these two is that they complement each other so well. Overall, Kyrou has a 47.2 xGF% at 5v5 while Thomas has a bit better share at 49.9. But in 208 minutes together, they have a 51.8. We'll see how these two progress over time, but it's certainly a bright spot for the Blues.
The New Best Line in Hockey?
Let's get one thing straight – nobody calls it the "Perfection Line". However, with the line of Brad Marchand, Patrice Bergeron, and David Pastrnak broken up in Boston, there seems to be an opening for the new best line in hockey. After searching far and wide, I think we may have found it in Calgary, Alberta, Canada.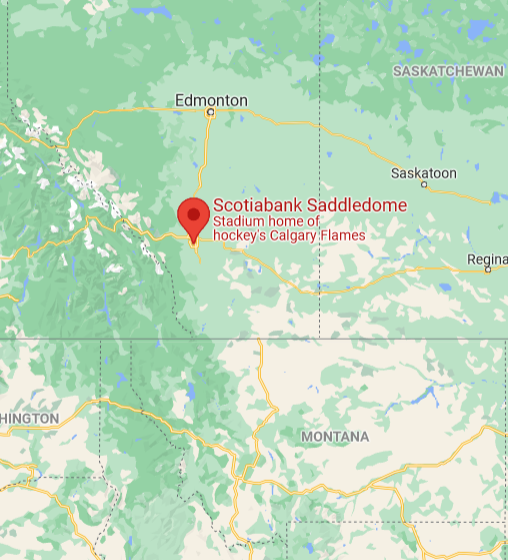 People follow us for our geography lessons, not hockey. Given that Adam Fox didn't seem to know where Calgary was, I included a map to help. The line of Matthew Tkachuk, Elias Lindholm, and Johnny Gaudreau has played 479 minutes together at 5v5 so far this season. In those minutes, the Flames have outscored their opponents 31-8. Their +23 goal differential is 10 clear of the next best line combination.
Of course, a goal differential like that comes with a bit of luck. They have had the benefit of playing in front of some great goaltending (96.1%) Which has propelled them to a 106.4 PDO, however, the expected goal differential is still formidable. Their score and venue adjust xGF% is 63.8, which is second to the old Bergeron line among lines that have played at least 200 minutes together this season.
The Ducks are Flying
The Anaheim Ducks spent their week on the east coast, playing Boston, Toronto, Montreal, and Ottawa, where they grabbed 7 out of 8 points and outscored their opponents 15-11. Despite sitting second in the Pacific, they would just be holding onto the last wild card spot based on points percentage if the playoffs had started Sunday morning. The Alberta teams are not out of reach for Anaheim, but it looks like they will be a part of a multi-team battle for the last wild card spot with Los Angeles, Winnipeg, and Dallas.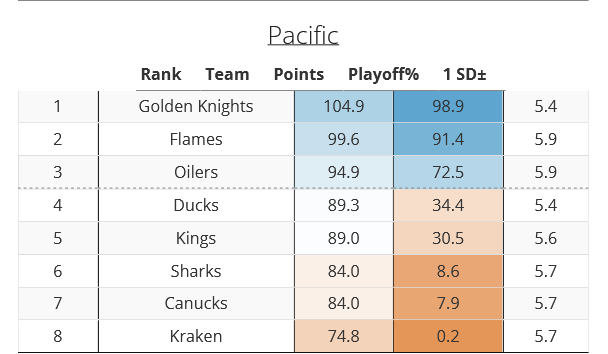 Heading to the east to play Boston and Toronto, two very strong teams, is not the easiest thing to do. To grab 3 out of 4 there, and grab the "easy" 4 in Montreal and Ottawa could be a key to winning the battle for the last spot.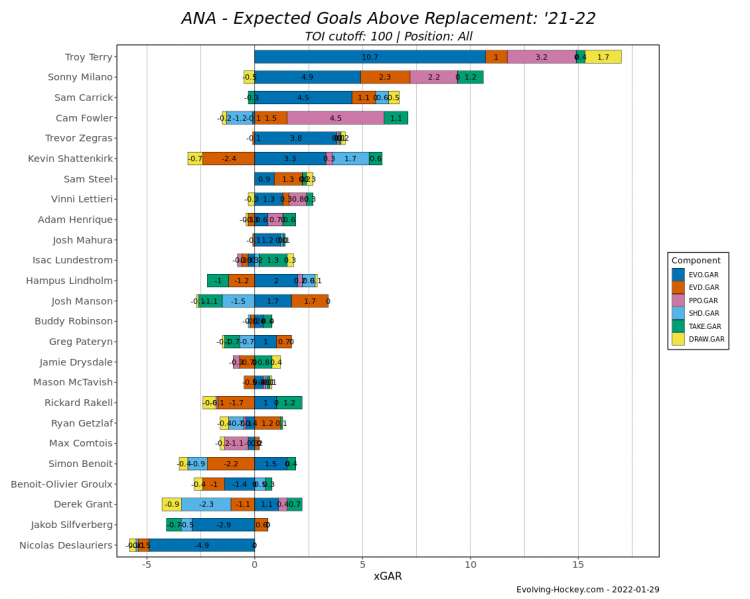 Anaheim is a team the model is less perhaps less optimistic on given that they've been led by the breakout seasons of Troy Terry and Sonny Milano as well as the tremendous goaltending of John Gibson. Time will tell if Anaheim's young blood can drive their way into the playoffs.