The Semifinals. Down to the final four. Here we are. Round 2 featured a solid storyline throughout. Every away team won their series, and no series went to 7 games. Not something you see every year. At least one series featured quite the upset – the heavily favored Colorado Avalanche were knocked out by an incredible effort from the Vegas Golden Knights. The Montreal Canadiens swept the Winnipeg Jets (after the Jets swept the Oilers in the prior round). And the Islanders made us all mad (again) by winning and making it this far (again). Oh and Tampa is back. While the final four teams here may seem a bit odd to some, both Tampa Bay and Vegas were two of the strongest teams among all 16 teams per our model (ranked 2nd and 3rd heading into round 1). It's really a shame that the COL / VGK series had to happen in round 2. Here's the rundown of the outcomes from round 2 and how our projections did. Per @hockeystatisti1 on twitter, we're holding down 2nd place among the tracked public models (damn you Avalanche).
| Division | Home | Away | Round 1 % | Outcome |
| --- | --- | --- | --- | --- |
| Central | CAR | T.B | 34.3% – 65.6% | 1-4 |
| East | BOS | NYI | 65.7% – 34.3% | 2-4 |
| North | WPG | MTL | 48.8% – 51.2% | 0-4 |
| West | COL | VGK | 72.2% – 27.8% | 2-4 |
---
Vegas Golden Knights (1)     vs. Les Habitants (4)
71.4%                         28.6%
---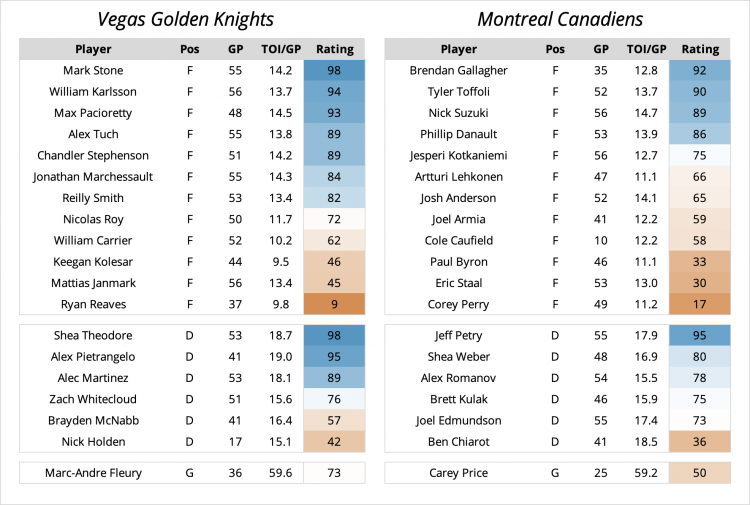 The Montreal Canadiens will roll into Vegas on quite the hot streak. As the saying goes, "On mise toujours sur le rouge." Okay yes Vegas is favored and they recently released a set of red jerseys, just don't count out the Montreal Canadiens quite yet. Carey Price has continued to be amazing, only allowing 22 goals on 27.49 expected goals and carrying a 93.3% save percentage, but this Canadiens team played extremely well against the Winnipeg Jets. One of the interesting stat lines for the Canadiens this postseason is their even goal differential short-handed. They've scored 3 goals and have allowed 3 goals themselves. While a good powerplay may be able to take advantage of the Habs penalty kill, they are pests. Perhaps Peter DeBoer won't be claiming his opponents are embellishing this round.
From being favorites, then underdogs, and back to favorites again, the Vegas Golden Knights are gearing up for their third league semifinal in their four years of existence. The Golden Knights players are clearly motivated by the astonishing perseverance of Marc-Andre Fleury who has had a phenomenal season after recovering from a sword wound this past fall. All kidding aside, while a lot of attention has been on Mark Stone and the set of speedy forwards, it feels like it is our responsibility to point to the play of Shea Theodore. While he's been on the ice at 5v5 this postseason, the Golden Knights have had a 63% share of the goals and 61% share of expected goals. Expect the Knights to continue to dominate while he's on the ice and even for him to score a goal or two.
---
Tampa Bay Lightning (2) vs. New York Islanders (3)
81.9%                    18.1%
---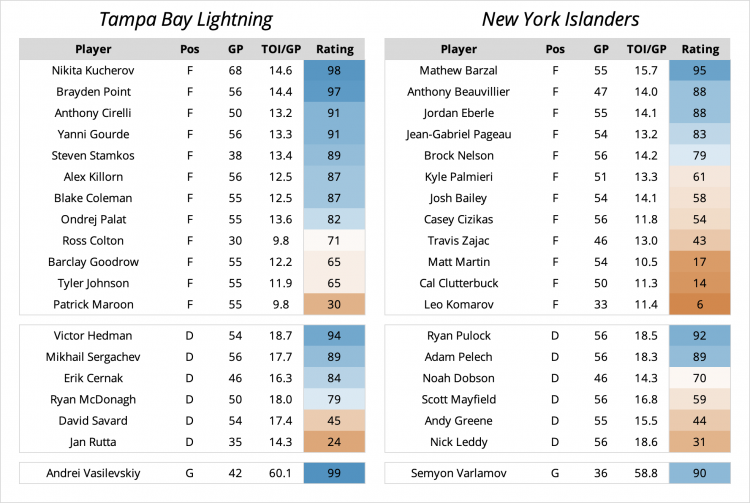 The Islanders success so far has started quite the debate and, to an extent, controversy over their current playoff performance. They've now paired back to back trips to the 3rd round (last season losing to the Stanley Cup champion Lightning, who they get to rematch). I've already covered my opinion on the Islanders' recent playoff success here, so I won't go into that much more. But, it's impressive how well the Islanders have done considering most of the public models (including our own) have had them as underdogs in basically every series they've been in during this span. In the prior two rounds, NYI has succeeded almost entirely through their playoff-leading 9.81% shooting percentage and 2nd overall 94.38% save percentage at 5v5, while managing the 2nd worst CF% and 5th worst xGF%. Not to get too 2014 here, but that's what most would've called unsustainable 7 years ago. I'd still say that. But they keep winning. There isn't much to like here, but something seems to working. I'd maybe say that's just luck.
Once again, the Tampa Bay Lightning have made it to the Conference finals (the 5th time in the last 7 seasons). As I said in our round 1 preview, we're all, like, over this team, right? They're good. They're favored here, by a lot. They are rolling $50 million over the cap ceiling. And, at least on paper, they're the better team in this series (and the best team left in the playoffs). They have arguably the best top-6 forward group left in the final four, few weak spots in their entire roster, and the 2nd best goalie per GSAx in the playoffs in Andrei Vasilevskiy at 7.38, trailing only Winnipeg's Connor Hellebuyck's stellar 8.87. Surprisingly, the Lightning have been somewhat mediocre in their EV shot attempt numbers, averaging less than 50% in CF% at EV in both prior series. That's been evened out by their solid xG numbers. One thing to keep an eye out for is whether the Lightning can maintain their absurd ~36% shooting percentage on the powerplay. If Tampa struggles, it wouldn't be surprising if a "struggling" powerplay were a main cause.
—
Next: Fight for Glory